Rimage Releases Software Update for 2000i Disc Publishers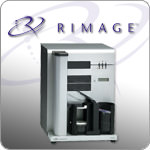 It was Greek philosopher Heraclitus who famously said that "No man ever steps in the same river twice, for it's not the same river and he's not the same man." This quote reminds us that in life and in nature, things are never stationary, but rather they are constantly changing. Just like the river, the world of software is also constantly changing.
Part of owning a disc publisher is keeping it up to date with the latest software. For Rimage 2000i owners, that time is now. That's because Rimage has just released a new software update for their one and only inkjet CD/DVD publisher, and it's a big one.
According to the company, version 8.5 of the Rimage System Software software will begin shipping in June 2011. This version adds several important features and upgrades not found in the older version.
First and foremost, version 8.5 brings Windows 7  support to the 2000i platform including both 32-bit and 64-bit versions. This allows the 2000i to work with newer desktops and laptops which are running the latest version of Windows.
Another notable update is that the QuickDisc software included with the Rimage 2000i CD/DVD publisher now provides an option to record the printed disc label file on the published disc, along with the other content. This feature enables users to create a saved copy of their disc artwork on each published disc.
Finally, Rimage System Software v8.5 for the 2000i also includes updates to the OfficeNET Software Suite (OSS), which is useful for administrating the machine over a local network using a separate client and host PC. The OfficeNET software is also compatible with Windows 7 (32-bit/64-bit) with this update.
The update is not yet available online, but customers can learn more by contacting Rimage directly at 1-800-553-8312 (Option 2). Customers with an active Maintenance Contract will receive their software update shortly after it becomes generally available.
If you own a Rimage 2000i disc publisher, I highly recommend checking out this update in order to get the most from your machine. You can shop for this machine as well as other great disc production equipment when you visit the Rimage Store at CDROM2GO.com. CDROM2GO is an authorized reseller of Rimage equipment that offers a comprehensive selection of do-it-yourself products and supplies for CD duplication, DVD, & Blu-ray duplication.