Nintendo Wii U Console Will Not Play DVD or Blu-ray Discs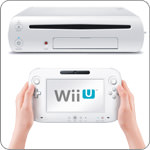 There has been a lot of buzz in the gaming industry over Nintendo's next-generation game console, the Wii U. Details about the new console were released by Nintendo earlier this month at the Electronics Entertainment Expo (E3 Expo) in Los Angeles, California.
Like its predecessor, the Wii U will not support playback of DVD and Blu-ray discs. This lack of extra functionality comes as a disappointment to many gamers who often set their consoles up in a living room or family room. Competitors to the Wii such as the Microsoft Xbox 360 and Sony PlayStation 3 offer DVD and Blu-ray playback, respectively.
Nintendo President Satoru Iwata was quoted as saying "We feel that enough people already have devices that are capable of playing DVDs and Blu-ray, such that it didn't warrant the cost involved to build that functionality into the Wii U console because of the patents related to those technologies."
In short, Nintendo is keeping its formula for the Wii U the same as it did for the original Wii: to make an excellent video game console and not an all-in-one multimedia device. Whether you support or disagree with Nintendo's decision, it's hard to ignore the fact that the original Wii console sold a staggering 86 million consoles – far more than its higher priced competitors.
On the other hand, Nintendo does have a good point. A growing majority of households already have one or more devices for playing replicated Blu-ray movies such as a Blu-ray player or PlayStation 3 game console. Adding movie playback to the Wii console would ultimately increase the cost of each unit sold and would put the company at a competitive disadvantage with Sony and Microsoft.
As we reported earlier, the Wii U will store games on 25GB discs using a proprietary format that is similar to a replicated Blu-ray disc. This will give game developers about 5 times more space compared to the Wii's current DVD-like game discs. The extra space is necessary due to the fact that the Wii U will in fact support HD output in both 1080p and 1080i.
This was a grievance of the previous Wii, which only supported 480p graphics. The new console will feature HDMI, composite, component, and S-Video outputs for use with a wide variety of television sets and home entertainment systems.
Is Nintendo's decision a stroke of genius, or have they missed the boat twice in a row? Should the Wii U support playback of replicated DVD and Blu-ray movies, or is it just fine as a game system? Let us know your opinion by posting a comment below.