Going for Gold Discs: Exclusive Interview with MAM-A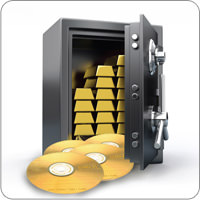 While gold may be traditionally coveted for its beauty and shine, it boasts an entirely different kind of value in the optical media industry, thanks to the metal's chemical properties.  MAM-A, a CD, DVD and Blu-ray manufacturer dubbed as "The Gold Standard" has championed the precious metal and produced exceptional results.
CDROM2GO was lucky enough to have an exclusive interview with MAM-A's sales manager Lora Swenson, who explained what sets the company's gold CDs and DVDs apart from the average recordable disc.  Additionally, Swenson revealed the staying power of gold discs compared to other storage mediums that could essentially tarnish over time.
CDROM2GO:  Talk about how and why the role of gold is so important in MAM-A's disc making process.
Lora Swenson: The reason MAM-A uses 24 karat gold on some of our disc products is not for appearance reasons – it's because gold is a precious metal that doesn't oxidize.
This adds extra protection for the data layer of a recordable disc over a longer period of time compared to other standard silver discs.
CDROM2GO:  How do you think manufacturing blank discs in America makes a difference in quality?
Swenson: MAM-A is really proud to be the only recordable disc manufacturing site remaining here in the U.S., and everyone working here is committed to making premium quality discs to fulfill the need for archival quality media.  The fact that this plant has been in continuous operation since 1996 validates the high quality that began with the original Mitsui Advanced Media America engineering.
CDROM2GO:  Describe what applications best suit MAM-A CDs and DVDs.
Swenson: Anyone or any organization that needs to "future proof" their valuable, often irreplaceable, information.  Storage technology will continue to evolve numerous times, so it makes sense to archive to the most durable long lasting media available right now. This way, your content is better protected to convert to the next popular future media type.  Discs have no moving parts to fail like hard drives, and are smaller in size to store many.
CDROM2GO:  How do you plan to compete price and product-wise with other small manufacturers like Falcon Media?
Swenson: MAM-A's production operations in Colorado are very flexible – we're able to custom print discs digitally, provide serialization, silk screen, and do special packaging for even smaller quantities. Delivery is a lot faster than from Asia, or the UAE where Falcon Technologies' plant is located.
CDROM2GO:  In a time where flash and cloud are becoming more popular storage mediums, how will MAM-A succeed in the future of optical media?
Swenson: Our 24 karat gold archival discs are meant for permanent memory storage.  USB is convenient, but it's not permanent and the memory chip inside eventually stops working.
And compared to a $10 USB flash drive, the MAM-A Gold Archive DVD-R for less than $3 is an excellent value.
Cloud storage is an easy back up method, but there are still safety and security concerns about remote server reliability. That's why it's a necessity to also back up your most valuable information on some type of physical media that you control yourself in your location.  In many cases, these are your most precious photo and video memories.  Why not make some extra copies as "memory insurance"?
CDROM2GO:  Anything else that you would like to add that you think is important for our blog readers to know about MAM-A discs?
Swenson: Here's a fun fact:  if you could lift the data track off a single layer of a DVD, and stretch it out into a straight line, it would be almost 7.5 miles long!
CDROM2GO:  Lora, thank you for your time in answering all of our questions about gold DVDs and CDs!