How to Play Blu-ray Discs on Your Computer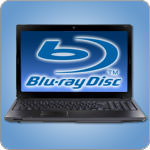 If you have purchased a new desktop or laptop computer within the past year, chances are good that it may include a Blu-ray disc drive. It may surprise you to learn that playing back Blu-ray movies on a computer is a bit more complicated than watching them on a PlayStation 3 or standalone Blu-ray player.
In order to watch replicated Blu-ray movies on your computer, you must have three things:
1) a Blu-ray capable disc drive
2) a Blu-ray movie
3) proper software to watch the movie
It is this third one – software – that causes the majority of problems for Blu-ray users.
Nearly all new computers with built-in Blu-ray drives will have the appropriate software already installed on the computer. Most major computer manufacturers will include a quality program such as CyberLink's PowerDVD or Corel's WinDVD on computers with integrated Blu-ray disc drives.
If your computer is missing the software or if you reinstalled Windows recently, you may be able to reinstall the Blu-ray player software from the restore discs included with the computer.
Many users may run into problems when trying to play Blu-ray movies back using Windows Media Player, VLC Player, Media Player Classic, and other popular programs. These programs do not natively support the Blu-ray disc format and require that a third-party software decoder such as PowerDVD or WinDVD be installed on the system first.
Netbook users and computer owners who do not have a built-in Blu-ray drive may choose to purchase an external Blu-ray drive. If the drive does not include software, a user's best choice is to bite the bullet and purchase one of the two programs named above. They offer a wide variety of features at a very reasonable price.
However, people who use an Apple computer as their primary machine will find it is extremely difficult to play Blu-ray movies. The format is still not natively supported in OS X, and there is no easy way to play stamped or replicated Blu-ray discs on a Mac. We talked about the reasons behind this in a previous article "How Come Apple and Microsoft Xbox 360 Do Not Support Blu-ray?"
While it is true that some advanced users have developed a workaround, it involves ripping the movie to the computer in a highly technical process which is beyond the scope of this article.
As far as playing a Blu-ray movie on your computer goes, you will have the easiest and most trouble-free experience if you are using a PC, particularly one with a built-in BD-ROM or BD-R drive that includes bundled software for playback. Once you get everything up and running, I'm sure that you will agree that the higher picture and sound quality of a Blu-ray disc is worth it!