Epson Releases Updated iPrint App v2.0 for Apple Users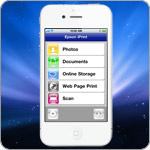 It was last November that we first wrote about Epson's iPrint mobile printing app, which allows iPhone, iPad, and iPod Touch users to connect to their Epson inkjet printer. Now, Epson has released version 2.0 of iPrint which includes loads of exciting new features.
Whereas the older version could only print photos, the new version can print documents, e-mail attachments, and stored files saved on the device. Epson's iPrint app allows users to print files including Microsoft® Word, Excel®, PowerPoint® and PDF documents.
This is extremely handy for users who need to create a hard copy of something – for example, printing off a receipt, ticket confirmation, or shipping label from an iPad tablet or iPhone.
Besides local files, iPrint 2.0 also support printing files from online document storage sites including Box.net, DropBox, Evernote, and Google Docs. This makes it convenient to print off a copy of a file, no matter where it's stored!
iPrint 2.0 even includes a built-in web browser for printing copies of web pages wirelessly to your Epson inkjet printer. Even with so many new features in the new version of this App, there's still more.
At its core, Epson is still a printing company. iPrint 2.0 offers a wide range of advanced printing options including printing multiple photos with or without borders, choosing between color and monochrome, and even choosing paper size and type, the number of copies, and page ranges.
With this updated App, users can also control certain functions of their Epson multi-function unit using their mobile device. For example, iPrint 2.0 lets users select resolutions, image types, and even scan a photo or document to a device.
As if that weren't enough, iPrint 2.0 can even monitor ink levels in your printer and let you purchase new ink cartridges and supplies when needed. The upgraded functionality found in Epson's updated App is simply amazing!
iPrint 2.0 is compatible with a range of Epson printers including the Artisan 725, Epson Stylus series, and Epson NX series of machines.
You can download the "Epson iPrint" App for free from the iTunes App Store. To purchase an Artisan 725 printer or supplies such as Epson inkjet cartridges, please visit us at CDROM2GO.com.
Update 9/13/2011: Epson's iPrint App is now available for Android-powered devices including smartphones and tablets! The program is available for Android devices from the Google Play Store. Android OS v2.1 or newer is required to run the program.
iPrint for Android has the same functionality found in the iOS version including online file storage integration, wireless printing and scanning, and checking the ink levels of your Epson printer. For details, please see the official press release from Epson.