Enhance Your Project with Custom CD Liners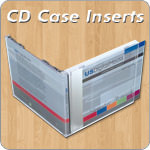 One of the best ways to customize a CD project is with your own CD liners. Also called tray cards, U-cards, and CD jewel case inserts, these printable sheets allow you to take a CD jewel case and make it your own. CDROM2GO carries a full line of CD liners for jewel cases, DVD cases, and more! Let's take a look at the process of creating your own inserts in greater detail.
By far, the most popular type of insert is the printable jewel case insert. Here's how they work: visit CDROM2GO and choose the type of inserts you wish to buy. One of the most popular ones is the 2-Panel Insert and Tray Card Set. This includes a single front cover and back cover for a standard size jewel case.
Choose the number of inserts you need on the website and the correct paper finish for your printer. Whether you have an inkjet or laser printer will determine which type of inserts you should buy. Once you add them to your cart, simply check out and the merchandise will be on its way to you!
In the meantime, you can download the free DiscStudio Design Software from CDROM2GO. This software contains built-in templates for all of US Digital Media's printable case inserts and entrapments. Load up the template for the 2-Panel Inserts you purchased and start designing the artwork!
DiscStudio allows you to add backgrounds, import pictures, and enter text into your designs. For bands, this may also include a listing of track names and times on the back cover. For software, it may include system requirements and information. This process is where your own creativity can really make the most of these printable CD case inserts.
When you are ready, print your artwork on to the case inserts. The edges are micro-perforated for clean and easy separation. From here, it's simply a matter of tearing each one out and inserting it into your jewel case package! Each sheet of paper contains one 2-Panel Insert for the front cover, and one Tray Card Liner for the back cover.
Creating your own printable CD case inserts is really not a difficult process. I hope that after reading this article, you will have the confidence to create your own custom CD inserts!