Store More with Clear Versapak DVD Storage Cases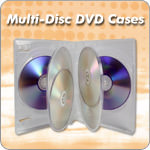 Although we often write about the growth of Blu-ray on the CDROM2GO Blog, the fact is that many businesses, companies, and users are still using DVD-R discs to store their information. In order to record the same amount of information contained on a single BD-R disc, a user would need four or five DVD-R discs. More importantly though, they also need some kind of DVD packaging to store these discs.
Fortunately, US Digital Media has the answer. It's called the Versapak case, and it's one of the best ways to store a multi-disc DVD project. Versapak cases are available in four, five, and six-disc capacities.
As you might have guessed from the name, Versapak cases are pretty versatile. They can store discs for any type of project, whether it's company backups and record-keeping or a series of training or instructional videos. They can be used for customer-friendly projects as well as in-house use for database backups and project file archives.
These multi-disc DVD cases from US Digital Media are made of a clear, sturdy plastic that gives them a high-tech look. Besides storing up to six full-size discs, these cases also have room for printed entrapments and inserts. On the outside, a clear vinyl sleeve holds the artwork in place against the front and back cover. Because of the width of the cases, cover art must be printed on paper with an extra wide spine.
Just inside the front cover, you'll find a pair of binder clips for holding printed booklets and brochures. These are often used when the video or movie is intended for retail distribution, because it gives the producers a place to print out cast biographies, notes, photos, and other information. Customers who use the Versapak multi-disc DVD cases for storing and archiving discs may not have much use for the binder clips, but it's nice to have them just the same.
Why would you choose to use a Versapak for storing discs instead of another type of case? The main reason is efficiency. Storing six DVDs with each one in a full size, single-disc DVD case with a 14mm spine would take up a lot of space on a shelf. In comparison, the Versapak case has a spine width of 28 millimeters, or about two standard size DVD cases. With six discs in the space it would normally take to hold two, the Versapak offers multi-disc storage by taking up 66% less shelf space.
From their many features to their practicality and efficiency, Versapak DVD storage cases are a great choice for storing and protecting multi-disc DVD projects. You can find these and other great DVD packaging products by visiting CDROM2GO.com today!