Blu-ray Sales to Surpass DVD Sales by 2012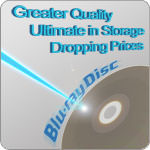 The path to developing scientific knowledge starts with observations. A pattern or trend is observed and then a theory is developed. Only when the theory has been tested and the numbers support the conclusion does it become accepted as scientific knowledge. Such is the case with Blu-ray.
Ever since the Blu-ray disc format made its commercial debut, it was marketed as a replacement for the DVD format. News articles and industry experts have talked about the inevitable takeover of Blu-ray. But are Blu-ray discs really going to replace DVDs? The latest studies indicate that yes, they will. However, the real news is not if Blu-ray will surpass DVD, but when.
Two new reports out this month from FutureSource Consulting and the NPD Group confirm what we knew all along: Blu-ray discs are replacing DVDs as the new standard for optical media. What's surprising is that the experts predict that sales of Blu-ray discs will overtake DVDs within the next year.
The report from FutureSource Consulting primarily consists of forecasted figures for the next few years. The company says that Blu-ray will overtake DVD sales in 2012, and may command up to 41% of home entertainment spending by 2014. By then, DVD sales will account for just 26% of the market. Other means of entertainment such as television-based Video-on-Demand (VOD) (18%) and online video services (15%) will account for the remaining sales. By 2014, an estimated 83 million American households will have a Blu-ray player at home.
A separate study conducted by consumer electronics research firm The NPD Group had similar findings. According to their report, the market share of DVDs remained constant from 2009 to 2010 while Blu-ray gained 16 percentage points in year-over-year sales.
How does one explain such outstanding growth in a year's time? NPD entertainment industry analyst Russ Crupnick had this to say about the numbers: "It wasn't too long ago that most consumers felt DVD was 'good enough,' and while it's true DVD is a terrific format, more consumers are now recognizing that Blu-ray does indeed deliver a superior experience."
The NPD Group found that the technology and high-def quality of Blu-ray was a major factor, influencing as many as 8 out of 10 Blu-ray users.
With so many consumers making the leap to Blu-ray, the message to content producers is a clear one: Blu-ray is growing, and it's growing fast. If you have not yet upgraded your production system with a Blu-ray publisher or duplicator, you might just find yourself left behind in the video production industry.
Again, this is not speculation or rumor. These two different firms have published the results of their original research, and both studies are in agreement that Blu-ray is well on its way to becoming bigger than DVD. Like it or not, the future of home entertainment is looking very "Blu" indeed!
Fortunately, duplication suppliers like CDROM2GO are stocked with equipment that video professionals need to go high-def. From their low prices on blank Blu-ray media and cases to their selection of BD duplicators, they've got the materials to get the job done.