Pros and Cons of CD Jewel Cases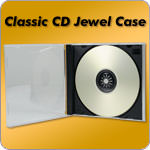 One of the most popular types of CD packaging ever invented is the CD jewel case. We brought you the story behind this ubiquitous case in our article "A Brief History of the CD Jewel Case" back in 2009. Now, we're going to look at some pros and cons of using CD jewel cases for your CD duplication projects.
There are a lot of reasons why jewel cases are great for a Jewel Case CD duplication project. For starters, they have been the case of choice since CDs first went on sale in 1982. The familiar size and shape fits neatly on store shelves, home media cabinets and furniture, and in the little storage space beneath your car stereo. Our whole music listening and storage infrastructure is built around the jewel case!
Another advantage of CD jewel cases is that they offer a lot of room for printed artwork. The tray card insert gives artists a place to list track names and lengths, while the printed insert or CD booklet offers ample space for lyrics, credits, and band photos. CD cover artwork can be anything from a simple two-sided print to a fold-out insert or multi-page stapled booklet. It gives artists a lot of room to get creative with their designs!
Of course, the ultimate job of a CD case is to protect the disc from harm. Jewel cases have a center hub that holds a full-size disc in place during transit. This keeps the disc from getting bounced around and scratched inside the case. A sturdy center hub is an essential part of a quality jewel case.
As you can see, there are some real benefits to choosing CD jewel cases. Customers are familiar with them, they offer a generous amount of space for printed materials, and the raised center hub design holds discs securely. Now, we're going to look at some of the drawbacks of using jewel cases.
The greatest pitfall with jewel cases is their durability. It's very easy to scratch or scuff the plastic on the front and back of the case if you're not careful. Jewel cases are also made of a strong yet brittle plastic that breaks before it bends. A case that is not properly packaged could wind up broken by the time it reaches its destination.
The solution is to use great care when sending CD jewel case packages through the mail. Double-boxing a case is the best way to ensure the safety of the contents. Another alternative would be to choose a more flexible type of disc packaging such as a clamshell CD case.
Another limitation of traditional CD jewel cases is that they only hold a single disc. This is not a very efficient use of space for multi-disc projects. A double jewel case offers twice the disc storage with the same outer dimensions as a regular jewel case.
Finally, some folks find jewel cases just a bit too bulky for a single disc package. Shelving, storing, and packing them can take a lot of space. A good alternative is to use slim jewel cases instead. The front cover still has room for printed artwork while the back tray card and insert are eliminated entirely.
I hope that this article has helped to illustrate some of the pros and cons of using CD jewel cases for your project. For a single CD project, they offer a universally-recognized case size and lots of room for printed materials. For a multi-disc project or one where greater durability is needed, a jewel case may not be the best choice.
For more information about CD packaging including jewel cases, please visit CDROM2GO.com today!