Exclusive Interview with Primera Technology's Mark Strobel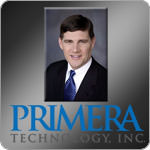 For the past two decades, Primera Technology has been at the forefront of the optical disc duplication and CD printing industry. The company has managed to keep its product line fresh while battling a recessed economy and stiff competition from other manufacturers.
Recently, we had a chance to talk with Primera's Vice President of Sales and Marketing, Mark Strobel, in an exclusive CDROM2GO Blog interview. We bent his ear about Primera's new Bravo 4100 units, what Primera is doing to stay ahead of the competition, and what we can expect from the company in the future.
CDROM2GO: Earlier this year, Primera introduced the new Bravo 4100 series machines. What has been the response to these new units?
Mark Strobel: We've been excited about all the positive responses we've received. Most people's initial comments are variations of, "I can hardly believe it, but it really is as fast as you said it would be!" In addition, we've received a number of excellent press reviews including one just this week from VideoMaker Magazine who reported a long list of "Pros" and not a single "Con."
CDROM2GO: Primera disc printers and publishers have historically used two-cartridge systems. What made you change to a four-cartridge system for the Bravo 4100?
Strobel: We've had two consistent and recurring requests from our end-users over the past several years: give us (a) individual ink tanks, and (b) faster printing. We accomplished both with the 4100-Series. Individual ink tanks will almost always save you money since you're never discarding cartridges that might still have ink remaining.
Faster printing is important since printing has traditionally been the "bottle-neck" when producing quantities of CDs or DVDs. At just 6 seconds per disc, we now have – by far – the fastest printing speeds in the industry. Other disc printers and publishers take from 20 to 120 seconds per disc for comparable print quality, so there's a huge difference with Primera's new printing technology.
CDROM2GO: What are the main benefits of the 4100 series publishers?
Strobel:
Extremely fast printing at just 6 seconds per disc.
The individual ink tanks save money on every disc you print.
100-disc capacity – automatically burn and print jobs of up to 100 discs.
Belt-drive robotics – 300% faster than previous models and quieter, too.
Windows and Mac software included; optional network software for Windows.
Optional Blu-ray Disc capability with eSATA interface for true 12x BD-R burn speeds.
CDROM2GO: How does Primera see the 4100 series of publisher stack up to the competition?
Strobel: We believe Bravo 4100-Series disc publishers are the fastest, most reliable and easiest to use in the world today – all at industry-leading prices.
CDROM2GO: The 4100 series has a fresh new look when compared to older models. Why and how did this change come about?
Strobel: We realized that almost all new printers and other office peripherals have changed from whites to black and grey. That decided our color scheme. We also lightened-up the tint on the cover and added blue LEDs inside so that the robotics could be more easily seen. People love watching the automated disc production process!
CDROM2GO: Have sales of Blu-ray units picked up?  What are the growth forecasts for this segment?
Strobel: Yes, they have. We reduced prices on all of our new BD-R equipped models and that has helped people to make the decision to spend just a little more but future-proof their investment in disc publishing. We're especially seeing BD-R growth amongst video production houses and wedding videographers as well as in government and military, universities and corporate users.
I do not know of any published forecasts for BD-R growth in the disc publisher market. It's still the only truly archival method of storing large quantities of data and video, so we believe it will continue to grow.
CDROM2GO: Where does Primera see the industry moving?
Strobel: Disc publishing has become a mature enough market that people now expect products that deliver consistent, reliable performance at reasonable prices. Blu-ray discs will continue to grow. Glossy, water-resistant DVD-R media will increasingly be used for designs that demand photo-quality printing and a "factory-produced" look and feel.
CDROM2GO: What tradeshows or events will Primera be attending in the near future?
Strobel: Our biggest show every year for disc publishers is NAB (National Association of Broadcasters). It was just held in April 2011 in Las Vegas. A similar European show is called IBC. It is being held September 9-13 in Amsterdam, Netherlands. Primera Europe will be exhibiting at IBC. Our next USA-based trade show for disc publishers is a federal government IT event called FOSE. It is being held July 19-21, 2011 in Washington, DC.
CDROM2GO: Mark, thanks for taking the time to respond to our questions. We really appreciate it!