Epson PP-50 and More: Exclusive Interview with Epson's Bryan Getz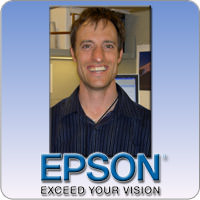 The name Epson has always been synonymous with consumer and business printing.  At one point or another, you've probably used one of the brand's machines to print crisp text documents or vibrant photographs.  What you may not realize is that when the company stepped into the disc publishing arena a few years ago, they would be accommodating users who need professional looking discs at any price point and disc capacity.
CDROM2GO had the wonderful opportunity to chat exclusively with Epson's product manager Bryan Getz, who revealed what sets Epson's new Discproducer PP-50 publisher apart from the competition.  Getz also told us why he thinks the optical media industry can remain strong for years to come.
CDROM2GO: What has the response been to the launch of the new PP-50?
Bryan Getz: From what we've gathered from our partners, it's been positively accepted, everyone's very excited because it allows more users to step into an Epson disc publisher.  For budget-minded users, it provides an entry level professional system that's Epson quality.  For some the PP-100 is more than they require.  The Discproducer PP-50 is a great solution for those users, and they can still move into a Discproducer PP-100 later.
CDROM2GO: What makes the Epson Discproducer superior to other publishers on the market?
Getz: On a broad level, it's Epson's product engineering, print quality, reliability and support.  We've been involved with printing technology since the 1960s. Plus Epson is a well-known and a leading player in inkjet printing technology.  Our disc publisher marries two of our core competencies together, printing and robotics. Also, many don't know that Epson has been designing, developing, and manufacturing robotics for many years.  We have been involved in robotics for over 25 years.  Our print quality is very good because of our MicroPiezo®printing technology and the use of a 6 color inkjet printhead.  Many competitors are using a 4 color printhead and thermal inkjet printing technology.  Epson disc publishers and printers provide a low total cost of ownership. One of the reasons for that is because of our high capacity inks and our great reliability and support.  Also our, Total Disc Maker, software is easy to use, and it's about as plug-and-play as you get in the PC world.
CDROM2GO: Why did Epson choose to introduce a smaller unit like the Discproducer PP-50?
Getz: Epson wanted to address the needs of low volume users who don't require a larger capacity publisher like the Discproducer PP-100 but are still looking for a quality or an Epson solution.   The PP-50 provides our customers with more choices. The Discproducer PP-50 rounds off our product line and provides us an opportunity to capture a larger share of the disc publishing and printing market.  The Discproducer PP-50 is competitively priced for what it is.  With our disc publishers and printers we have followed a business approach by creating disc publishers like the PP-50 that have a low total cost of ownership.  Epson wants to make disc publishing and printing affordable.  One way we do that is by providing high capacity inks in addition to Epson reliability and support.
CDROM2GO: What types of customers use the Epson Discproducer PP-50? Do you feel the price point is more attractive to entry level users?
Getz: The medical field, especially, smaller community hospitals and imaging centers, houses of worship, educational organizations and smaller businesses are just a few.  With a single drive, two publishing modes and a 50 disc capacity, the price is fairly aggressive considering it's an Epson.  It's not the cheapest publisher on the market, but it is reasonably priced.  However, over the long-haul our low total cost of ownership and high capacity inks make it a very affordable system.
CDROM2GO: With Blu-ray gaining traction, do you anticipate adding a Blu-ray disc publisher to your line of equipment?
Getz: Epson realizes the importance of Blu-ray, especially, for archival and video/HD applications.  I've been a big proponent of moving forward with Blu-ray support. We have been studying the demand for this technology and are seriously considering offering support with our disc publishers; however, at this time a schedule hasn't been determined. In the publishing space we still consider Blu-ray to be supported by a few niche markets.
CDROM2GO: Are there any plans for Epson to introduce software compatibility for Mac users?
Getz: Epson realizes the importance of having a Mac solution for Discproducer.  Plus, Epson already has an established reputation with the Mac community and we are very interested in appealing to that need in the disc printing and publishing space. At this time an official schedule hasn't been determined.
CDROM2GO: Epson started producing disc printing equipment just a few years ago.  What made the company want to expand into this industry?
Getz: We saw tremendous growth potential considering our experience with the core technologies, printing and robotics involved in disc printing and publishing. Also, we felt there was a need for the production of high quality printed discs.  That is one of the reasons why we entered that space.
We launched new models like the PP-50 so that we could offer more choices to our customers.  Three years ago when we launched the PP-100 we had only one flavor. We knew that if we wanted to be more successful, we'd had to expand that single product into multiple products.  We strongly felt that we could be successful in the disc publishing and printing market.
CDROM2GO: Where does Epson see the optical media industry moving in the future?
Getz: Of course we see growth in Blu-ray, but it's still limited to certain markets.  There are new technologies out there that are looking at expanding disc capacity.  The sky's the limit, what I'm hearing from the industry is promising.  In business applications, I think the disc is here to stay for awhile because there's still a need. Cloud base apps and the movement toward digital download will have some impact; however, I still see a need for optical media.  In my opinion, discs complement these new technologies.  Cloud and pure digital don't always meet everyone's needs or requirements.
CDROM2GO: Anything else you'd like to add regarding what consumers should know about the Discproducer PP-50 or Epson's role in disc publishing?
Getz: The Discproducer PP-50 has the same great characteristics, reliability and support as the DiscProducer PP-100.  It appeals to those that want an Epson or quality publisher, but don't require a PP-100 solution. It is a great solution for those smaller volume users that still demand quality.  It is what you expect from an Epson.  Epson is committed to building products that meet our customers' needs and wants.
CDROM2GO: Bryan, thanks for your time in answering all of our Epson questions. We really appreciate it!