Epson Releases Total Disc Maker v3.5 Software for Discproducer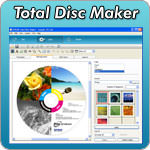 If there's one thing to be said about Epson, it's that they don't cut corners. Take the Epson Discproducer for example: using an off-the-shelf software package for printing disc artwork simply wasn't good enough for the engineers at Epson, so they went and made their own. The suite of programs known as Total Disc Maker is what ships with every new Discproducer unit sold.
The Total Disc Maker software was developed by Epson specifically for use with the Discproducer units. This is good for users for several reasons. First, the software was created with the printer in mind. All of the machine's functions from ink levels to the status of the hoppers and doors can be viewed on screen in the program. The result is a machine that works very smoothly compared to a machine that uses a generic software package.
Using proprietary software to operate the machine may put some users off, but it shouldn't. Epson initially launched the Discproducer in 2008 with version 2.5 of the Total Disc Maker software. In 2010, we saw the release of Total Disc Maker version 3.0 which included support for the Autoprinter model as well as Windows Vista and 7 compatibility.
Now in 2011, we have the latest release: Total Disc Maker v3.5. The software was actually released at the end of February, in a little-known corner of Epson's website. Unlike the last version, it appears that Total Disc Maker v3.5 is not a major release. Here is what Epson say is included in the updated version:
* Improved performance on Windows 7
* Support for Epson Discproducer 50
* Updated Help documentation
* Other minor bug fixes
If you are using a PP-100 publisher or PP-100AP autoprinter on Windows XP with version 3.0, there is no immediate need to upgrade.
However, if you are using the new Discproducer PP-50, if you are using Windows 7, or if you just like keeping things up to date, I would recommend upgrading to version 3.5 at your earliest convenience.
You can download Total Disc Maker 3.5 for the PC by visiting EpsonExpert.com. You will need an account to log in and download the program. Thankfully, creating an account is free and takes just a minute.  You can shop for the Discproducer and other Epson disc printers in the Epson Store at CDROM2GO.com.
CDROM2GO also carries supplies such as printable CD/DVD media, Epson ink cartridges, and much more! For a limited time, you can get a free box of discs with the purchase of a Discproducer unit through CDROM2GO. Please visit their website for details.