California Cracks Down on CD/DVD Piracy with SB550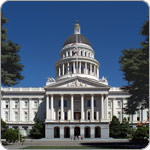 The State of California is famous for many things: beautiful beaches, expensive real estate, and Hollywood films. California is also a hotspot for piracy, at least according to the latest allegations from the Motion Picture Association of America (MPAA) and the Recording Industry Association of America (RIAA).
Movie and recording industry associations have spent the last decade going after consumers who make illegal copies, a practice which they say is responsible for huge declines in sales of packaged media.
Now, MPAA and RIAA lobbyists want to crack down on disc production factories in the State of California. The accusation is that legitimate CD replication and DVD replication factories are producing illegal copies of movies and music during second and third-shift runs.
An article in the Los Angeles Times estimates that there are approximately 70 disc replication plants in California. These businesses run high end CD, DVD, and Blu-ray replication machines which produce (or "stamp") discs for customers during the day. They make discs for educational, religious, and commercial organizations in large quantities. One plant in San Diego advertises that they have the capacity to produce 30,000 discs per day.
The MPAA and RIAA say that these disc production plants are also responsible for up to 85% of the nation's counterfeit CDs and DVDs. Law enforcement officials claim to have seized 820,000 pirated discs in just the past year. These high-quality fakes look like the real discs, but the movie studios and record labels are not receiving any of the profits.
That's a problem for the movie and recording industries, who have close ties to political leaders in California. A new bill working its way through the California legislative system aims to snuff out these alleged "bootleg factories."
SB550 will allow law enforcement officials to search DVD/CD replication and manufacturing plants at any time, for any reason, without a warrant. If this sounds like a violation against the 4th Amendment, you're half right. There are exceptions to the 4th Amendment already in place for numerous types of businesses in California including automotive junkyards, pawn shops, gun stores, liquor stores, massage parlors, nursing homes, and wholesale fish markets.
The argument is that these niche businesses are already strictly regulated by the State, and the scope of law enforcement's abilities is very specifically defined so as to prevent any potential abuse of power.
What do you think? Is piracy of CD and DVD discs really as huge of a problem as officials claim it is? If so, is allowing warrant less searches of optical disc replication plants the best solution, or a total violation of 4th Amendment rights? Share your opinion by posting a comment below.