Primera Introduces Bravo 4102 XRP Rackmount Publisher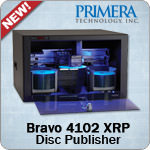 What do you get when you combine the zippy robotics of the Bravo 4102 with the rugged steel rackmount case of the Bravo XRP? You get the new 4102 XRP publisher, the latest innovation from Primera Technology.
The new machine was just unveiled yesterday at the 2011 NAB Show in Las Vegas. The National Association of Broadcasters' trade show is an annual event where equipment manufacturers come to show off their latest products and services to broadcast industry professionals.
The Bravo 4102 XRP's extra-rugged design and rackmount case make it ideally suited for users in the broadcast and entertainment business. Some of the environments where the Bravo 4102 XRP could be deployed include television, film, and recording studios, video archival and processing labs, and even content-on-demand applications at retail stores and kiosks.
This machine takes everything that's great about the Primera Bravo 4102 and incorporates it into a rugged case made of 18-gauge steel. The case includes holes for rackmount brackets, which allows the machine to be mounted in a standard server rack or equipment cabinet.
The front of the machine features a locking front cover that helps keep confidential materials secure. Discs with pre-release or pre-production material can only be removed from the machine by users with the key. These physical access controls are critical to keeping information under wraps until the official release date.
Besides the security features, the Primera Bravo 4102 XRP also features robotics which are 300% faster than the previous XRP model. This enables it to pick, load, and unload discs with greater speed so that your jobs are finished faster than ever before! The machine shares the same print engine as the 4102 desktop publisher, with its unbelievably quick 6-second print times. The 4-color CMYK ink cartridge system allows for highly accurate color reproduction at a lower cost-per-print.
The CD/DVD version connects to a PC or MAC via a USB 2.0 cable. The Bravo 4102 XRP Blu-ray version comes with the USB cable and also includes an eSATA kit and interface card which can be installed in the user's personal computer. With eSATA, users can take advantage of the machine's true 12X Blu-ray burning capabilities. That's because eSATA offers greater bandwidth for transferring large 25GB and 50GB files than USB can provide.
Overall, the new Bravo 4102 XRP combines Primera's latest in robotic and printing technologies with the tried-and-true rugged case from the old XRP in this winning combination. As the machine was just announced yesterday, may take several days to a week to become available in your area. Be sure to look for the Bravo 4102 XRP from an official Primera reseller such as CDROM2GO in the near future!