Epson Announces DiscProducer PP-50 CD/DVD Publisher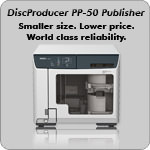 The past decade has seen huge technological advances in the automotive, personal computer, and cell phone industries. These everyday products are now smaller and more efficient than ever before. The same is also true of the disc publishing industry, where machines are reaching new levels of performance while continuing to shrink in size. On the cutting edge is Epson and their latest creation: the DiscProducer PP-50 disc publisher.
Epson made a surprise entry into the disc publishing market in 2008 with their PP-100 DiscProducer. This machine proved to be a worthy contender in an industry that had historically been dominated by a small group of niche manufacturers.
The machine's 100 disc capacity and dual CD/DVD burners offered true heavyweight productivity, while the reliable robotics and near-silent operation were well-received by critics. Epson's Total Disc Maker software rounded out the package with its easy-to-use artwork design program and burning suite.
The follow-up came in 2010 when Epson introduced the print-only DiscProducer Autoprinter. At under $2,000 dollars, it was an extremely attractive choice to buyers looking for a high-quality inkjet CD/DVD printer. When combined with high-quality inkjet printable discs, the Discproducer Autoprinter's 1440 DPI print head enabled it to create discs that looked as good or better than a much more expensive thermal disc printer. To top it all off, a set of cartridges is enough to print around 1,000 discs – simply incredible!
Now in 2011, Epson is looking to hit another home run with the DiscProducer PP-50 publisher. You may have noticed that the model number, PP-50, is half as large as the model number of the PP-100 DiscProducer publisher. This is very appropriate, because the PP-50 is quite literally half the machine.
The PP-100 offers a 100 disc capacity and two CD/DVD burners, while the PP-50 offers a smaller 50-disc capacity and one CD/DVD burner. Still, the smaller capacity does not hinder its productivity. The PP-50 can crank out 15 fully burned and printed CDs per hour, or 8 complete DVDs in the same time. In print-only mode, the machine can do up to 50 discs per hour! This makes it easy to produce your own professional-looking discs in smaller quantities.
If the PP-50 is anything like the rest of the DiscProducer line, we know it will be a reliable and cost-effective machine to run. So how much does this mini disc factory cost? A cool $1,925 dollars will get you the machine, the software, and your first set of ink cartridges. That's a lot of publishing power for under two grand.
Better yet, when you order the DiscProducer PP-50 publisher through an authorized Epson reseller such as CDROM2GO, you can choose to receive a FREE box of media at checkout! Choose from 600 pieces of USDM Pro white inkjet hub printable CDs or 500 pieces of USDM Pro white inkjet hub printable DVD-R discs. It's just our way of saying thank you for shopping with us. To learn more, please visit The Epson Store at CDROM2GO or call us (toll-free, as always) at 877-992-3766 today!