Epson Artisan 725 All-In-One Printer Is A Real Workhorse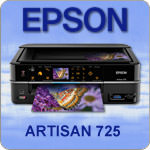 From the navigation system in your car to the cell phone in your pocket, touchscreens are all the rage these days. Now they're in your printer, too! The Artisan 725 CD printer from Epson leads the herd with its new 2.5-inch touchscreen color display – a first for Epson. So is this new machine a serious workhorse or just a one-trick pony? Read on and find out.
On the surface, the Artisan 725 looks very similar to its stablemate, the Artisan 710. It's the same size as the previous model and just 0.2 pounds lighter. The machine still has a large, bright color screen for previewing photos and choosing options. Even the built-in memory card reader and USB port have been carried over.
The most notable change about the Artisan 725 is the addition of a touchscreen display and control panel in place of the push buttons found on the previous model. While there was nothing wrong with the old unit, I have to say that using the touchscreen offers a more high-tech user experience. It also tilts up and down depending on whether you are standing over the machine or looking at it from the side – a very handy feature.
Epson hasn't put the cart before the horse though – this is still a great printer. With an ISO rating of 9.5 pages per minute in black and 9 pages per minute in color, the Artisan 725 can crank out letter-size documents with the best of them. As an all-in-one office device, the Artisan also scans at 2400 DPI and gallops along at 38 pages per minute in copy mode.
Besides laying ink down on paper, the Artisan offers a generous variety of print options. It can print a borderless 4″x6″ photo in as little as 10 seconds, and also features a built-in tray for printing directly on inkjet printable CD and DVD discs. Simply press the "CD Tray" button on the left side of the control panel and the tray pops out to accept a disc.
Place a single inkjet printable CD or DVD disc in the tray and watch as the Epson's print head zips across the disc at a speedy gait. When used with high-end Photo Finish CD-R or DVD-R media, the prints look genuinely amazing. Part of the credit goes to Epson's Claria High-Definition inks, which are famous for their rich color and true blacks.
Setting up a printer for the first time can be a frustrating experience, but that's a horse of a different color. Epson makes it easy to plug in, saddle up, and ride off into the sunset. That's because the Artisan 725 can connect to your home network via Ethernet or with its built-in 802.11b/g/n wireless connection. It even has the ability to print photos wirelessly from an iPhone or iPod Touch!
Before you pony up the dough  for your own Artisan 725, you'll want to make sure you buy from an Epson-authorized partner such as CDROM2GO.com. They have a full range of Epson ink cartridges, printable media, and other supplies to go with your brand-new printer. For a real value, check out the Artisan 725 Producer Pack that comes with a second full set of inks.
Finally, I wish that EPSON would get off their high horse and include a USB cable with their own printer. Fortunately, CDROM2GO customers will receive a free 6-foot USB cable in the box with every Artisan printer. They make sure you have everything you need to get out of the gate.
After verifying the machine's impressive speed, print quality, and variety of features, I believe that Epson's Artisan 725 is not just an old mare with a touchscreen attached – it's a thoroughbred that you can depend on for reliable disc, document, and photo printing. Yee-haw!
You can view more details about the Artisan 725 and about Epson's other disc printers by visiting the EPSON Store at CDROM2GO.com today.