New USDM External Blu-ray Burner Features USB 3.0 Interface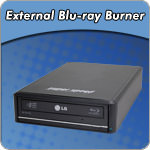 When it comes to home entertainment and data storage, Blu-ray is the latest and greatest technology available. It has the best picture and sound quality and the discs with the largest capacities. What better way to attach a Blu-ray drive to your computer than with the latest and greatest peripheral interface, USB 3.0.
With the new external Blu-ray burner from US Digital Media, you can have the best of both worlds! This drive combines the amazing quality and convenience of Blu-ray with the speed and performance of USB 3.0
The drive's USB 3.0 interface is ideal for recording large projects such as high-def master discs and large data files. Drives with a USB 3.0 interface can transfer data much faster than the old standard, USB 2.0. This will greatly reduce the amount of time needed to burn a large 25GB or 50GB project to a blank Blu-ray disc.
In order to take advantage of the fast transfer rates of USB 3.0, the host computer needs to have at least one USB 3.0 port available. While they are not common on older computers, USB 3.0 ports can be found on some of today's higher-end desktop and laptop computers. Generally, the ports can be identified by their signature blue color and USB "SuperSpeed" icon.
If you don't have a cutting-edge computer with a USB 3.0 port, don't worry. The drive is also backwards compatible with USB 2.0 machines as well. It may take a little more time to record your discs, but it will get the job done. The only time this will be noticeable is when burning projects which are 5GB or larger. Recording standard CD-R and DVD-R discs is comparable to other external drives, and there is more than enough bandwidth available for movie playback and CD ripping.
The portable enclosure makes it very easy to move the drive from one computer to another. This could be useful if you want to watch a movie on your main computer, back up some data on your other computer, and author a DVD on another different machine. It's easy to connect the drive to a laptop or desktop computer depending on your needs.
You can view additional photos, details, or buy this external USB 3.0 Blu-ray burner by visiting CDROM2GO.com today! Their secure online storefront offers a wide variety of CD duplication products, services, and supplies for sale at great everyday prices. Check 'em out!