Rimage Releases Software Suite v8.5 for Thermal Disc Publishers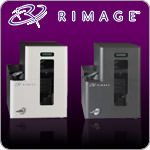 It was just three months ago that Rimage rolled out version 8.4 of the Rimage Software Suite for their line of professional disc publishers. We covered that update and all of its features in our blog "Rimage Software Update Adds Windows 7 Support" back in January. Now the company has released version 8.5 of the software with a few more features and fixes.
January's update added support for 32-bit versions of Windows 7, but it did not include support for 64-bit versions. Version 8.5 adds support for 64-bit versions of Windows 7 and Windows Server 2008 for client PCs connected to Rimage Professional 3410, 5410N, Producer 6100N, 7100N, and 8100N products.
Clients with 64-bit Windows operating systems are now supported across all programs including the Producer Software Suite (PSS), Network Software Suite (NSS), and Rimage Standalone Software (RSS). Systems with embedded control centers will continue to run Windows XP Pro SP3 for the time being.
Rimage System Software 8.5 also includes a number of other improvements. For example, the file size limit has been removed from WebQD and support for folders has been added. Users can also turn off previews for large files, which can speed up performance. And when it comes to notifying operators of error and warning messages, the software can now send alerts via email.
Other new features include the ability to include artwork label files on published discs. This can be helpful when a disc needs to be copied or duplicated and the original artwork needs to be accessed quickly. Finally, 3410 and 5410N Publisher users can take advantage of simultaneous input/output bin support, a feature which was not previously available on these machines.
So how do you get the latest version of Rimage software for your disc publisher? Unfortunately, it is not available as a download from the company's website. You must contact Rimage to obtain the update. Customers who currently have a Rimage service contract can receive the update at no additional charge. Customers without a service contract should contact their Rimage representative for details.
For more information about these machines including a detailed list of features and prices, please visit The Rimage Store page at CDROM2GO.