Primera Releases Updated Software Development Kit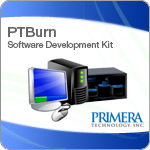 The Primera Bravo platform combines precision robotics, CD/DVD burning, and inkjet disc printing all in a single machine. Wouldn't it be neat if this robust platform could be customized to your own specific needs? Well the good news is that you can do just that with the PTBurn Software Development Kit (SDK) from Primera.
Version 3.3 of the PTBurn SDK was released to the public on Friday, March 11th. With the Software Development Kit, third-party developers can create their own software programs to control the functions of the Bravo disc publishers. The SDK supports a wide range of Primera products including the Bravo SE, Bravo II, Bravo Pro, Bravo XR and XRP, the Bravo Pro Xi, and even the new Bravo 4100 series platform.
This version contains a number of important technical updates, not the least of which is Windows 7 compatibility. Now, developers can use this tool to create customized applications for the Bravo 4102 Publisher and other machines from Primera.
There are a number of industries where this type of custom development is extremely useful. These include medical imaging, computer forensics, on-demand photo and video kiosks, and digital asset management. To help explain how the PTBurn software development kit can be used to expand the capabilities of the Primera Bravo disc printer, let's look at an example from each of these fields.
The first industry which could benefit from custom software is the medical imaging field. Companies such as Nautilus Medical offer the Bravo XR, XRN, and Bravo Pro Xi as part of their AutoRay medical imaging package. The disc printing and burning functions are controlled using a touchscreen interface developed by Nautilus for use by medical technicians.
The PTBurn Software Development Kit can also help companies in the computer forensics industry. Forensic companies such as Fernico and Control Systems International have integrated Primera disc publishers with their own software in programs such as the FAR ProX Imager and DataDoubler. This allows companies to collect and organize large amounts of optical media evidence without a huge investment in time.
In the retail industry, companies such as MediaPort and YesGear use the Primera Software Development Kit to power their photo and video kiosks. These customer-friendly machines allow for quick transfers of images and video to optical discs for safe and secure data storage. With hundreds of units operating nationwide, the photo and video industry just wouldn't be the same without the ability to create these custom functions.
Finally, we take a look at digital asset management. In today's high-tech business world, it has become more important than ever to keep backups of critical company information. Email messages, client lists, order history, databases, and more must all be archived safely. That's where companies like DAX Archiving Solutions come in. Their software combined with Primera's rugged Bravo XRP disc publisher create a flexible and reliable way for companies to back up their important data.
The only question left is this: how can the PTBurn Development Kit help your industry? The software is available as a free download from Primera to registered third-party developers. With it, you can start developing your own custom applications for Bravo disc publishers and printers today!