Primera Bravo 4100 Series Quick Setup Guide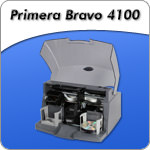 There's no doubt about it, the Bravo 4100 machines from Primera are seriously cool. From the lightning-quick print speeds to the cool blue lighting, these machines are turning a lot of heads. Before you run out and buy one (or if you just did), I would like to take a moment to talk about what you need to do in order to get the machine up and running. It's really not as scary as you might think!
The first step before ordering your Bravo 4100 autoprinter or publisher is to make sure that your computer can handle it. Most newer computers purchased within the past year or two should be good to go. To be sure, check that your computer runs Windows XP, Vista, or 7 and has a Celeron, Pentium, Core Duo, or newer processor. At least 2 GB of RAM and 10 GB of free hard drive space are also recommended for best performance.
For Apple users, the minimum system requirements are OS X v10.6 or newer, 1 GB of RAM, and 10 GB of hard drive space. An available USB 2.0 port is also required for all printer and publisher models. With that squared away, we are ready to get started!
When the unit arrives, carefully open the box. Don't throw the box away – save it in case you need to return the machine for service. At the very least, make sure you are able to print and burn discs successfully before flattening the box down and putting it in storage. Take care to remove all plastic bags, cardboard, and other packing materials. These are in place to keep the machine safe during shipping, and they need to be taken out of the unit before printing can begin.
Place the Bravo 4100 on a sturdy, level workspace such as a table, desk, or countertop. The machine moves slightly during operation, and a stable surface will help ensure the best print quality. Next, you can unpack the power cord and plug the machine into an outlet or surge strip. Do NOT plug in the USB cable just yet – the software needs to be installed on your computer first.
Now, we are ready to install the Bravo 4100 ink cartridges. Power the machine on and open the front cover. The print head assembly will center itself in the machine. Gently press each ink cartridge into the color-coordinated slot in the carriage. When finished, simply close the cover.
Place the software installation disc in your computer's disc drive. PC users can install SureThing label design software for autoprinters and PTPublisher for disc publisher models. Apple users can install PTPublisher for the Mac. Connect the USB cable only when prompted to do so by the software.
With the software up and running, you can begin designing your label. You can import a picture or background created in another program, add text, and more. Be sure to save your artwork before printing, just in case!
When your artwork is loaded up and ready to go, you can place a stack of blank inkjet printable CD or DVD discs in the hopper on the right side of the machine (closest to the power button). Enter the number of discs you wish to create and hit print. If everything is set up correctly, the machine will pick, print, and unload all of the discs automatically. That's it, you are done!
Hopefully this guide has been helpful in illustrating how to get your Primera Bravo 4100 publisher or autoprinter up and running. You can shop for these and other great machines at everyday low prices by visiting CDROM2GO today!