MAM-A Featured on ABC News' Made In America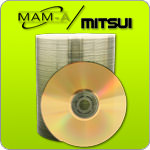 In February of 2011, ABC News began airing a new segment called "Made In America." The show gives viewers an inside look at what it takes to manufacture products in America today, from labor and materials costs to the threat of competition from overseas. Recently, Made In America took a few moments to talk about MAM-A, Inc., the Colorado-based manufacturer of blank CD and DVD media.
What's special about MAM-A, Inc. is that they are the only remaining manufacturer of blank CD and DVD discs in the United States. Brands like Taiyo Yuden media are manufactured in Japan, while the majority of the world's blank discs are made in China, Taiwan, and India.
MAM-A operates a 50,000 square foot facility in Colorado Springs, Colorado. It is here that they produce their top-of-the-line blank discs, the Archival Gold series. MAM-A licenses technology from the Mitsui Chemical corporation for producing the high-quality pthalocyanine dye used in their discs, which is why you will often hear them referred to as MAM-A/Mitsui.
The discs that MAM-A produces are not for the average computer user or musician. Archival gold CDs and DVDs are some of the best discs you can buy in terms of performance and data protection. They are a specialty product designed for use in libraries, businesses, laboratories, government organizations, and other professional uses. MAM-A estimates that their archival gold discs will last up to 300 years if stored properly at room temperature.
MAM-A also applies a layer of their exclusive Diamond Coat® protection to their discs for added durability. Discs with Diamond Coat® are better protected against scratches, scuffs, and damage than discs that do not have it.
In addition to recordable CDs, MAM-A also makes blank archival DVD discs. These MAM-A archival DVDs feature a storage capacity of 4.7 GB and a maximum record speed of 8X. It's usually pretty easy to spot a MAM-A DVD-R disc because of its vibrant gold color.
The company keeps a pretty low profile outside of the optical media industry, but it is important to recognize them and other small businesses like them for their contributions to the American economy. Personally, I am glad to see that in a global economy, some very high quality products such as MAM-A recordable media are still made with pride in the USA.