Epson DiscProducer Case Study: South Jersey Healthcare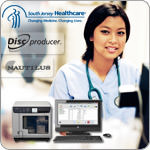 Ever since Epson first introduced the DiscProducer back in 2008, we have been impressed with the machine's versatility. The DiscProducer platform has been adapted to include a 2-drive CD/DVD publisher, an autoprinter, and a network edition publisher. Now the DiscProducer is turning heads in the medical imaging industry, as we are about to discover.
An Illinois-based company called Nautilus Medical has integrated the DiscProducer PP-100 publisher into a medical imaging machine called the AutoRay. These machines have been deployed by South Jersey Healthcare, a regional provider of medical and health services in Southern New Jersey.
Here's how it works: a patient makes an appointment for a radiological exam with an X-ray, CT scan, MRI scan, or ultrasound technician. In the medical industry, these are all known as Digital Imaging and Communications in Medicine (DICOM) machines. The AutoRay is a touch-screen device that receives the medical images from the DICOM scanner and displays them on a computer screen.
From here, the technician can burn the images on to a CD or DVD-R disc using the Epson DiscProducer, which is part of the AutoRay system. This allows radiological technicians to create personalized discs for patients, other doctors and physicians, and for the patient's medical records with ease.
South Jersey Healthcare uses the AutoRay machines for performing radiological exams of patients at their four hospitals and health centers as well as dozens of regional offices. According to figures published by SJHC, over 230,000 radiological imaging procedures were performed at their facilities in 2009 alone! Because of their high volume of patients, SJHC needs a reliable and easy-to-use system for viewing and storing all of these patient images. That's where the AutoRay and the DiscProducer come in.
The DiscProducer's 100-disc input capacity allows SJHC employees to produce lots of copies for patients without stopping to reload the machine with more blank discs. The machine's two built-in DVD/CD burners make it easy to record on the apporopriate type of media without lengthy delays. Finally, the built-in disc printer can print the hospital's name, patient name and ID, date, time, and other important information directly on the disc for reference.
As part of the Nautilus AutoRay DICOM system, the Epson DiscProducer is certainly pulling its own weight in the medical industry. According to Mary T. Fanning-Chalako R.T. (R)(M), PACS Administrator at South Jersey Healthcare, "The new Nautilus / Epson solution is more user friendly, faster, more reliable than our previous system, and we are very pleased with it."
You can enjoy the performance and reliability of the Epson DiscProducer at your own company by purchasing one of their CD/DVD publishers or autoprinters. A factory-authorized reseller such as CDROM2GO can help you get set up with your own on-demand disc production system. They also supply accessories including blank printable media and inkjet cartridges.
To find out more about the DiscProducer platform and how it can help your business, please visit CDROM2GO.com or give them a call (toll-free) at 877-992-3766 today!