DVD and Blu-ray: A Visual Comparison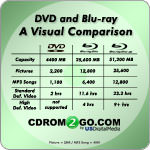 One of the most important differences between DVDs and Blu-ray discs is the amount of information they can store. We've all heard that Blu-ray discs store 5 times more than a DVD-R disc, but what does that really mean? It doesn't tell you in real terms how much more information the disc will hold. That's why we have put together this chart which illustrates the difference in storage capacity using some common types of files.
First, let's take a look at a standard DVD-R disc. With 4,400 MB of storage space, a disc will store up to 2 hours of DVD quality video. In the high-definition world of today, this is now known as Standard Definition video, or SD for short.
When you pop a blank DVD-R disc in your computer, it can be used for backing up data such as your photo library or music collection. Assuming that a typical JPEG photo is about 2 megabytes and that an average MP3 file is about 4 megabytes, we can calculate approximately how many of each type of files we can fit on a disc. At these file sizes, a DVD-R can hold about 2,200 pictures or around 1,100 MP3 files.
That's good for a disc, but it's pretty mind-boggling when you look at how much more a Blu-ray disc holds. With a 25GB capacity (or 25,600 MB), a Blu-ray disc can hold up to 11.6 hours of DVD quality video. That's over 9 hours more video on a Blu-ray disc than on a DVD disc at the same level of quality.
Of course, most folks use Blu-ray discs for their intended purpose: high definition video. The amount of video that will fit on a BD-R disc varies depending on the type of compression used. With MPEG-2 encoding, a Blu-ray disc will hold 2 hours of HD video. With MPEG-4 AVC encoding, a Blu-ray disc can hold 4 hours of HD video with little or no difference in quality compared to MPEG-2.
For computer data storage, the numbers are also 5 times greater than for DVD. A recordable Blu-ray disc with 25GB of space can store roughly 12,800 digital photos! Even a hardcore shutterbug would take several months to a year to take over twelve thousand shots. As for audiophiles, there is room for about 6,400 MP3 files on a disc. Considering the average CD album has 12 tracks, that's equivalent to over 530 full albums!
If you thought that was impressive, wait until you hear about the storage capacities of a dual-layer Blu-ray disc! Boasting an incredible 50GB of storage space (51,200 MB), a dual-layer Blu-ray disc in your Blu-ray recorder offers twice the free space of a BD-R disc and 10 times more than a DVD-R. This allows each disc to store 25,600 pictures or up to 12,800 MP3 audio files. Wow! Additionally, BD-R DL discs will hold up to 23+ hours of standard definition video and around 9 hours of HD video.
I hope that these statistics have given you a better idea of just how much bigger Blu-ray discs are than DVD-R discs. 5 times the capacity is nice, but now you know that means 10,600 more photos, 5,300 more songs, and up to 9 hours more of SD video.
You can shop for blank media as well as Blu-ray duplicators, Blu-ray cases, and other products by visiting CDROM2GO.com. Their secure online storefront offers a huge variety of duplication supplies and equipment at great low prices. Check them out today!