6 CD Burning Software Programs Compared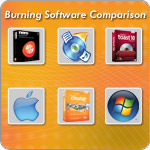 No matter how many copies of a disc you need to make, every disc duplication project starts with a single master disc. Creating that master disc properly is a critical step that can make or break your project. The most common way to make a master CD or DVD disc is with a personal computer, so today I am going to compare six different CD burning software programs to see which one is best for making master discs.
For this comparison, I have chosen six programs which are among the most popular for burning discs. Three of these are paid programs and three are freeware, and I have included programs for both Windows and Mac users. Let's get started!
Nero Burning ROM
This popular program supports recording virtually all types of CD, DVD, and Blu-ray disc formats. It can create and burn disc images and much more. Ideal for creating reliable master discs.
Pros: Advanced features; supports CD/DVD/Blu-ray. Works with Windows XP, Vista, and 7.
Cons: No advanced multimedia features in basic version (Nero Suite is $99).
Price: $49.99 (download version)
Final Thoughts: A great program that offers advanced disc recording features with an easy-to-use interface.
Roxio Creator 2011
Roxio Creator is a full multimedia application for managing and burning pictures, video, and music. Supports copying, system backup, and creating and recording discs from ISO images. Works with CD, DVD, and Blu-ray formats.
Pros: Includes support for recording blank CD, DVD, and Blu-ray discs. Powerful media tools including slide shows, DVD video creation, and more.
Cons: Not available as a burn-only application.
Price: $79.99 (download version).
Final Thoughts: This full-featured disc burning program packs a lot of features if you can afford it. Best for home users and multimedia power users.
CDBurnerXP
When you just need a quick and easy way to write some files to a disc, consider CDBurnerXP. It's a little light on features compared to the competition, but at zero dollars the price is hard to beat.
Pros: Small, simple program for recording custom audio CDs, data CDs, and data DVDs.  Can write discs from ISO image files and other sources.
Cons: Does not support video conversions or DVD video creation like other programs do.
Price: FREE
Final Thoughts: An excellent low-cost alternative if you do not need to create DVD video master discs.
Built-in Windows Disc Recorder
In Windows XP, Windows Vista and Windows 7, adding files to a blank DVD or CD is no more difficult than dragging and dropping files to a folder. However, these discs may not be compatible in other devices because of the way they are recorded.
Pros: Very basic tool for recording files to discs that is built in to Windows.
Cons: Discs burned with Packet Writing or Live File System will not be recognizable by other drives unless they are finalized.
Price: FREE (built in to Windows)
Final Thoughts: This software is often a source of frustration for many users when making master discs. Avoid using the built-in recording software if at all possible.
Built-in Mac OS X Disc Recorder
Much like the Windows Disc Recorder, the OS X Disc Recorder allows for simple drag-and-drop recording of files from the computer.
Pros: This is a quick way to record pictures, documents, and other files that will only be used with the same computer they were recorded on.
Cons: OS X will not finalize the disc unless you tell it to, which can cause problems when creating original master CD-R discs or DVD discs.
Price: FREE (built in to OS X)
Final Thoughts: Not recommended for making master discs for large duplication projects.
Toast 10 Titanium
Toast is a comprehensive multimedia program for burning, copying, listening to, and watching media content on your computer. Brings advanced CD and DVD disc burning capabilities to Mac users.
Pros: Creates reliable master discs from a wide variety of sources.
Cons: Requires Mac OS X v10.5 or higher and a compatible drive (such as an external Blu-ray burner).
Price: $79.99 (after $20 mail-in-rebate)
Final Thoughts: A great program for burning any type of master CD, DVD, or even Blu-ray discs on a Mac.
So there you have it: six different programs for recording discs with a wide range of features and options. My observation is that when it comes to disc recording software, you really do get what you pay for. Free programs offer basic functionality, while advanced features and options come at a premium price.
For more information, be sure to check out my other article: 8 Tips for Making a Good CD-R Master Disc.