15 Essential Tools and Resources for CD Duplication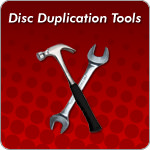 Working in the data storage industry for the past several years has given me the opportunity to try out lots of duplication related programs, tools, and resources. In this article, I am going to list out some of my favorite duplication-related tools and resources. Hopefully they will help you in your own DVD or CD duplication project!
Multimedia Production Tools
1. Audacity – Capture and record audio on your computer with Audacity, a free software program that offers advanced sound editing features in a small package.
2. VirtualDub – This is a simple yet powerful program for processing AVI and MPEG-1 video files.
3. DVD Styler – A free suite for DVD authoring that allows for menu creation, chapter points, slide shows, and more.
CD/DVD Burning Tools
4. CDBurnerXP is a free program for recording CD and DVD discs. It can be installed locally or run from a USB flash drive! Create and burn ISO images, audio discs, and data discs.
5. ImgBurn is another one that can burn audio CDs from nearly any type of sound file format!
6. Burn – Burn is an advanced disc recording tool for Mac OS X. Free to install and use.
7. DVD Identifier – A handy utility for identifying the capacity and speed of your blank DVD, HD-DVD, and Blu-ray discs. Does not work with CD-R discs.
Graphic Design Tools
8. DiscStudio – This free design software is great for creating CD/DVD labels, jewel case inserts, and cover artwork. PC only.
9. Paint.net – Free image editing software which is far superior to The Gimp in my experience.
10. Aviary – Perform advanced image editing through your web browser with Aviary. Enhance your images without downloading or installing any software!
Multimedia Playback
11. VLC Media Player – This free player will allow you to watch nearly every type of audio and video multimedia file in existence. Compatible with Windows, Mac, Linux, and more!
Duplication Supplies
12. Blank Disc Media – Purchase blank CD, DVD, and Blu-ray media at low prices. Choose from Grade-A brands including JVC/Taiyo Yuden, Philips, Verbatim, MAM-A, and US Digital Media.
13. CD/DVD Packaging – Shop for CD sleeves, jewel cases, DVD cases, and a huge variety of plastic CD cases at great wholesale prices.
14. Printable CD Labels – It's easy to create your own labels with these inkjet and laser printable adhesive labels! Just print, peel, and apply.
Legal Tools
15. eCopyright – Protect your sound recordings by filing for a Copyright through the US Copyright Office.
For more great resources regarding duplication and CD replication projects, please take a look at our Duplication Directory by using the link at the top of the page.