Store More with Multi-Disc CD/DVD Storage Cases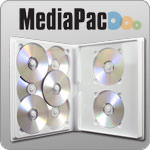 When it comes to storing CD and DVD discs, space is always a concern. How much space do you have? How much space will it take to store your discs? Fortunately, multi-disc storage cases solve that problem quite nicely.
A multi-disc case is any type of plastic CD or DVD case that holds more than one disc. Some examples of these cases include CD albums, CD binders, and MediaPac cases. There are also multi-disc storage cases modeled after traditional DVD cases and jewel cases. Each different type of case has its own pros and cons depending on the needs of the user.
So which type of storage case is the best? Let's examine each of the different case types in depth to find out.
A multi-disc jewel case looks like an ordinary CD jewel case, yet it can store two full-size discs. These cases are ideal for double-disc audio productions, CD-ROM games, software, and other situations where a single disc just isn't enough to store all of the information. Double-width jewel cases also exist which can store 4 or 6 discs. These are ideal for multi-part audio lectures, audiobooks, and other extended-length projects.
Multi-disc DVD cases offer many of the same advantages as jewel cases, with the added benefit of a larger cover area for displaying project artwork. Multi-DVD cases are available in capacities of 2 to 12 discs, with spine widths varying from the standard 14mm up to 39mm for the 12-disc case. These cases are best suited for long video presentations, independent movies with bonus features and materials, and archiving large amounts of data.
Another type of case is the CD storage album. These cases are made of a softer plastic which is more flexible than a jewel case. The Unikeep brand albums are 2-ring binders with pages that can be inserted and removed, much like a three-ring binder found at any office supply store. The largest albums hold 20 double-sided pages for a total of 40 discs. For the price, it's hard to beat the amount of storage you get in such a compact size!
CD binders offer everything that CD albums do, but in a larger size. CD binders have a 3-ring system that holds the pages in place. The binders themselves are available in black or clear and measure approximately 11 inches by 12 inches. Because of their larger size, these cases can hold several times more discs than a CD album. They are great for large archival projects that require multiple discs, such as audio, video, and data backups.
Finally, we can take a look at MediaPac cases. These multi-disc cases are vacuum-molded to hold anywhere from 1 to 12 full size discs. They also include a unique feature called a literature well, which can accommodate a full-size 8.5″ x 11″ brochure without being folded in half. MediaPacs are perfect for lectures, presentations, and instructional courses. The high quality of these snap-close cases is sure to impress your customers.
As you can see, there are plenty of different types of multi-disc storage cases to choose from. Whether you need a compact shape or a high-capacity case with room for product literature, there's a case for every need.  You can find all of these cases and more at everyday low prices by visiting www.CDROM2GO.com today!