Is Media Mail Worth the Price?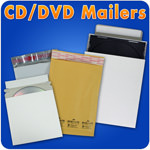 Working on a tight budget often involves a lot of give-and-take, especially when it comes to disc duplication. Companies and organizations must make the most their limited resources to get their discs finished. One thing that people often ask about is saving money on postage by using Media Mail. What are the benefits of using Media Mail, and what are the costs?
Let's start with the basics: when you ship a letter or package at the post office, you can choose how quickly you need the item delivered. Express Mail is faster than Priority Mail, and Priority Mail is faster than First-Class Mail. Media Mail is actually a notch below First Class, which results in a very attractive price.
Shipping a typical disc in a cushioned CD/DVD bubble mailer would cost about $2.92 at the Post Office for an envelope up to 13 ounces in weight. The same envelope would cost just $2.38 (with a weight up to 16 ounces) using Media Mail. That's a savings of $0.54 cents per envelope, which can really add up!
If you are sending out 500 discs in cardboard CD/DVD mailers, going with Media Mail would save $270 dollars compared with First-Class Mail. That's a significant amount of savings, and it only goes up with the number of pieces you are mailing. But are there any drawbacks to using Media Mail?
Before you charge off to the post office and demand they use Media Mail for your discs, you might want to be aware of a few important restrictions.
First, Media Mail is intended only for shipping media. This includes books, video cassettes and tapes, vinyl records, certain types of printed materials (like sheet music and manuscripts), and CD-R and DVD-R discs. It's not intended for sending any other kind of merchandise, promotional materials, or other goods.
Second, Media Mail is subject to inspection. Your package could be opened by a USPS Postal Inspector if they suspect you are not following the rules. Mail fraud is a crime and they take it very seriously. Don't try and fool them!
Third, Media Mail has a maximum weight limit of 70 lbs (31.75 kg). This is not a big deal for most folks who are sending cardboard disc mailers through the mail, but it's important to be aware of the limitations.
Finally, the most important thing to know about Media Mail is that it's NOT intended for time-sensitive shipments. Officially, the USPS states that packages sent Media Mail are typically delivered within 4 to 14 days. If you search around the Internet however, there are plenty of people complaining about Media Mail packages taking up to several weeks to arrive.
While it's true that you can save a little money by using Media Mail, it's important to think of the expectations of your clients. If customers order a custom CD or DVD disc from you, will they be happy about receiving it in one to two weeks? Probably not!
A good alternative would be to use a USDM mail-friendly disc mailer and send it First Class, which takes just 1-3 days. The cost is not much more than Media Mail, and it's a whole lot faster! Ultimately, it is up to each organization to decide if the financial savings of using Media Mail are worth the delay in shipping time.