Customer Spotlight: Hear & Now DVD Project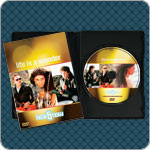 We often write about our great deals on DVD duplication services. Today, I want to share with you an example of our work. We recently did a DVD duplication job for the band Hear & Now which features their debut music video, "Life Is A Wonder." Here's a little background on these guys from their official website:
Hear & Now is a dream-pop band with a twist of psychedelia. Members Charlie Charles, Justin Schaid, Lorenzo Scott, and Jon Ilaw hail from four corners of the globe – South Africa, Germany, Los Angeles, and the Philippines. Their music is a collaboration of culturally-inspired styles including alternative rock with a subtle Euro-hipster dub resonance. This creates a hypnotic blend found only in the best pop music.

Whether they are performing on stage during one of their must-see live performances or gracing the soundtrack of a cool independent film, Hear & Now are wowing audiences internationally. Give them a listen and you'll agree – this new band of talented musicians is a breath of fresh air.
The band is throwing a party to celebrate the debut of their self-titled CD this Saturday, February 19th, 2011. Join Hear & Now at the El Cid Restaurant in Silverlake, California for an evening of fine food, drinks, and of course, great live music.
This FREE event is supported by radio stations KCRW and KPFK and is hosted by DJ Pilau. The evening's entertainment also features a performance from British comedian Christopher James.
You can stay up to date with the latest news on Hear & Now by following them on Twitter. The music video for "Life Is A Wonder" has also been posted to the band's YouTube page. You can pick up a copy of their CD at the show or on the iTunes Music Store now.
Make sure to subscribe to our blog to stay up to date on more great DVD duplication jobs from the experts at CDROM2GO!