CD Printing Costs Examined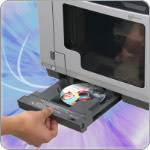 An inkjet disc printer is one of those inventions that quickly becomes indispensable once you own one. Before you go and purchase a brand new DVD/CD printer, you might want to take a moment to examine the costs of operating the machine. Today we're going to look at the costs of printing a CD on several of the most popular disc printers in the industry.
Let's start with the PrintFactory Pro from Microboards. This machine features a 100-disc capacity and is compatible with both PC and Mac operating systems. Its 4800 DPI print head produces photographic quality prints and text in a very short time.
A complete set of Microboards ink cartridges for the PF-Pro will run about $200 dollars. The good news is that each set will last approximately 1,500 prints, for a total cost-per-print of just $0.13 cents. This number will vary depending on the number of colors in your artwork, and could even drop as low as 9 cents per disc when printing simple black and white text. Wow!
Next, let's examine the Primera Bravo 4100 autoprinter. This machine also features a 100-disc capacity and PC/Mac compatibility. What sets the Bravo 4100 apart from the PF Pro is its incredible speed. The 4100 autoprinter can print an entire full-color disc in just six seconds' time. Where speed is concerned, there's no disc printer around that can match the Primera.
But what is the price of all this speed? Well, a complete set of four ink cartridges for the Primera Bravo 4100 costs just under $100 dollars. Depending on the color and complexity of your artwork, the set of ink cartridges should last for at least 300 discs. This results in a cost-per-print of around 31 cents per disc, but again, this could be much lower depending on your print settings.
Now let's take a look at the Epson DiscProducer Autoprinter. Like the others, this boxy autoprinter features a 100 disc capacity and a high-resolution inkjet printer. Epson's near-silent robotics and easy-to-use software make this machine a breeze to use, and at under $2,000 dollars it's a lot of machine for the price.
When it comes to cost, how does the DiscProducer stack up? This machine uses six ink cartridges while the Microboards and the Primera unit use four. A full set of Epson ink cartridges costs $360 dollars, which sounds like a lot by comparison. However, the ink cartridges are good for at least 1,000 prints! When you do the math, the total cost-per-print is just $0.36 cents! That is an amazing price for the quality of the print.
Last but not least, we come to the Rimage 2000i. This machine is only available as a fully-loaded disc publisher with two CD/DVD recording drives. A print-only version is not available, which results in a higher initial cost of buying the machine.
The Rimage 2000i uses just two ink cartridges: one black and one color. A pair of these sells for about $120 bucks and are good for around 300 prints according to the manufacturer. The cost-per-print then is about $0.40 cents per disc.
On the basis of operating cost alone, Microboards has the lowest cost-per-print in the industry. However, the reliability, features, and purchase price of each machine should also be considered. Those are subjects for another day, but I hope this article has been useful in explaining the costs of CD printing!