Customer Spotlight: Auntie El's Lebanese Kitchen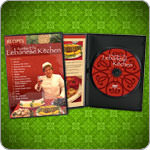 Our Customer Spotlight this week is a DVD project we recently completed for Auntie El's Lebanese Kitchen. Most of us are familiar with Lebanon and its capital city of Beirut because of the news headlines. Political turbulence aside, this country of 4 million people is also known for its Mediterranean climate, diverse population, and of course, great food.
Auntie El's custom DVD package features a selection of her favorite Lebanese recipes from the old country. The DVD video covers 15 traditional favorites such as tabouli, hummus bit-tahini, and baba ghannuj. What makes the project unique is that it also includes a printed 8-page booklet inserted into each case.
The booklet features photos of the completed dishes along with the recipe and ingredient list for each one. The benefit of this is that the booklet can be removed from the DVD and kept near the kitchen while the disc can be safely stored on the shelf for reference.
This project is an excellent example of how we can take your project idea and turn it into reality! Besides DVD duplication services, we also offer graphic design services for your disc and cover art. Our talented designers can take your pictures or ideas and put them together into a design that is tailored to your exact needs. This way, you can have a project that looks great without the expense of hiring a full-time designer!
Of course, it takes more than just good design to make a great custom DVD project. We offer a wide variety of extras such as UPC bar codes, shrink wrap, plastic overwrap, and spine labels to spice up your project. Finally, we assemble all of the components into a complete DVD package, which can then be sold or shipped to your customers.
We will be featuring more examples of our work from satisfied customers in the near future, so make sure to come back again soon!