Verbatim Sets Q3 Release Date for BD-XL Media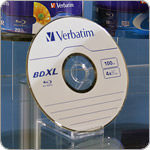 Verbatim America made a big announcement this weekend at the Consumer Electronics Show in Las Vegas, Nevada. The company has stated that their latest and greatest optical media product, Blu-ray XL discs, will be available for sale starting in the third quarter of this year.
Verbatim manufactures a wide variety of data storage products including memory cards and hard drives. Most people are probably familiar with the company's signature product: Verbatim blank CD and DVD discs. For years, consumers have relied on Verbatim CD-R and DVD-R discs for their data storage needs. Now, Verbatim is pushing the envelope with their new line of "extra large" Blu-ray discs.
A regular Blu-ray disc contains a layer of organic dye sandwiched between two layers of polycarbonate plastic. This arrangement is known as a recordable BD-R and features a storage capacity of 25 gigabytes of information, or approximately 2 hours of high-definition video. A single BD-R disc holds as much information as 5.3 DVD discs, but it's still not as large as a dual-layer Blu-ray disc.
A dual-layer Blu-ray disc (also known as BD-R DL) works in much the same way, except it contains two data layers on the same side of the disc. This has the effect of "super sizing" the total storage space of the disc without increasing its size and at a low marginal cost. In this way, a dual-layer disc can hold 50 gigabytes of data and information! That's twice the capacity of a standard Blu-ray disc. Still, it's not as impressive as Blu-ray XL.
The new BD-XL discs from Verbatim feature three separate data layers, which allows a single Blu-ray XL disc to store an astonishing 150 GB of information! That's 3X more than a regular Blu-ray, and 31X more storage capacity than a DVD on a disc that's the same size!
It's pretty amazing when you think about all of that information being stored on a single disc. Not only is it more portable than a computer hard drive, but it's available at a much lower cost per gigabyte as well.
Like all Verbatim Blu-ray media, these 100GB Blu-ray XL discs will feature Verbatim's HardCoat™ protection, which keeps the disc – and your data – safe from scratches, dust, and fingerprints. This coating makes a big difference in prolonging the lifespan of the disc.
Verbatim says these discs are slated for a Q3 release in 2011. Pricing has not yet been announced, but we'll let you know as soon as more information becomes available. In the meantime, you can shop for other great Verbatim CD/DVD media products in the Verbatim Media Store from CDROM2GO. They've got great savings on blank recordable media to meet your needs. Check it out today!