Rimage Software Update Adds Windows 7 Support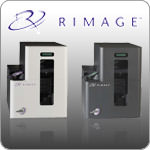 It's been almost a year since Rimage added two new machines to their line of Producer thermal disc publishers. At the time of their initial release, the Rimage 3410 and the 5410N were only compatible with Windows XP and Vista.
Then in November 2010, Rimage quietly released a software update that added compatibility for Windows 7. In fact, the release was so quiet that we just recently found out about it!
Let's look at each of the different software programs Rimage offers for these publishers and examine what the new software updates will mean for Rimage owners out there.
The software package that comes with the Rimage 3410 publisher is called Rimage Standalone Software, or RSS for short. The latest release is version 8.4, which is now compatible with Microsoft Windows 7 Professional, Enterprise, and Ultimate editions (32-bit versions only).
A number of other new features can be found in Rimage Standalone Software 8.4. These include the ability to span files evenly across multiple discs, the ability for QuickDisc to automatically calculate layer breaks for dual layer DVD discs, and the ability to turn off label previews. You can even set the number of times a project batch file runs – a very useful feature when running large sized jobs.
Users of the Rimage 5410N disc publisher get even more with updated versions of Producer Software Suite and Network Software Suite. These programs offer the same Windows 7 compatibility as Rimage's Standalone Software, plus 64-bit compatibility for client-only installations under Windows 7 Professional, Enterprise, and Ultimate.
Some of the new features found in PSS and NSS include the ability to place completed discs in the reject bin when the regular output bin is full, a message alert whenever the autoloader door is opened, and the ability to send email notifications whenever there is an error or alert. These features will be very useful for situations where the machine is shared by multiple users and may not be monitored throughout the day.
In order to get the latest release of the software, customers must contact Rimage directly via telephone. The software is not available for download on their website at this time. Customers with a Rimage 3400 or 5400N publisher who wish to upgrade their software can do so by calling Rimage at 1-800-553-8312 (Option 2). When calling, remember that Rimage is located in Minneapolis, MN which uses Central Standard Time.
For more information on Rimage thermal disc printers including detailed specifications and pricing, please visit The Rimage Store at CDROM2GO.com today!