Primera Bravo 4100 Series Takes On the Competition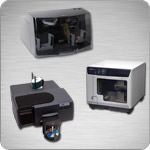 Yesterday, I wrote about the new Primera Bravo 4102 series of disc printers and publishers. We looked at the different models and gushed over all of their whiz-bang new features. Now, we're going to put the Bravo 4102 publisher head-to-head with some of the other titans of the disc publishing industry to see how it measures up.
This is more than a simple comparison of features.  In this shootout, each of these three machines is the top-of-the-line unit from its respective manufacturer. We are putting Primera's latest and greatest inkjet disc publisher against Epson and Microboards to see which one is the best deal.
Each machine will be judged according to its print quality, speed, features, price, and appearance. We will arrive at a conclusion based on an objective review of these criteria.
Primera Bravo 4102 Publisher
Let's start with the newest contender in the ring: The Bravo 4102 Publisher. From the outside, it looks very similar to the outgoing Bravo Pro Xi. It has the same smoked plastic cover and blue LED lighting inside. The rest of the case has changed from beige to charcoal gray, which gives the machine a more modern appearance.
But it's not all about looks. The real changes to the 4102 are inside, where a larger print head gives the machine incredible print speeds. A full disc print can be completed in as little as six seconds! That's faster than any other disc publisher on the market by far. When it comes to raw speed, nothing outruns the Bravo 4102 publisher.
The Bravo 4102 is Primera's first automated disc publisher to feature a four-color CMYK ink cartridge system. Not only does this produce highly accurate color, but it also saves money since you only need to replace the Primera ink cartridges you are out of, rather than buying a whole new multi-color cartridge each time. The Bravo 4102 even has a user-replacable print head which extends its service life by leaps and bounds.
Besides printing, the 4102 is equipped with dual CD/DVD burner drives for recording discs. A Blu-ray 4102 publisher version is also available with up to two 12X BD/DVD/CD recorders for ultimate productivity. No matter what type of disc you need to produce, the 4102 from Primera can handle it without breaking a sweat.
The key to the Bravo's success is its versatility. Not only can it handle every major type of optical disc, but it also has a 100-disc capacity which is great for running large or small jobs. Again, it adapts to fit your needs. It can also adapt to fit your office or place of business, since it is compatible with both PC and Mac operating systems. So what kind of machine could possibly give the Bravo a run for its money?
Epson DiscProducer Publisher
Meet the Epson DiscProducer. This inkjet disc publisher hails from the Land of the Rising Sun and sports a most unusual appearance. Its swing-arm door and boxy appearance have been likened to a kitchen appliance on more than one occasion. Still, it has a futuristic sort of shape that would look right at home in a medical office or other high-tech environment.
Like the Bravo 4102, the DiscProducer PP-100 publisher offers a 100-disc capacity for doing small to larger size jobs. It features no fewer than four input bins which can be set up in any configuration you choose.
The DiscProducer also boasts a six-color ink cartridge system, two more than you'll find on the Bravo. According to the manufacturer, a set of cartridges for the DiscProducer will last for around 1,000 prints (depending on your artwork). That's incredible! Unfortunately, it's the only machine here without a user-replaceable print head.
Looking inside the DiscProducer is like watching a Broadway-style dance performance. Every single movement is perfectly executed with no motion wasted. The robotics move swiftly and silently, loading discs to and from the printer tray with surgical precision. You can thank Epson's AcuGrip picking technology for that.
The DiscProducer also features a pair of CD/DVD burner drives for recording discs. Unlike the Bravo however, it does not have a Blu-ray option for burning high-definition discs. Another caveat is that the Epson DiscProducer is only compatible with Windows environments, but that may not necessarily be a deal-breaker for most folks.
Microboards MX-2 Publisher
Last but not least, we arrive at the Microboards MX-2 CD/DVD publisher. The Microboards MX-2 is not the fastest or the cheapest machine here, so why did I include it? There's actually a very good reason. As I mentioned in a previous Microboards article, they are a bit like the Porsche of the disc publishing world because they take a fundamentally different approach to burning and printing discs.
The MX-2 publisher does not use complex robotics or a picking arm to move discs around. Instead, blank CD and DVD discs are placed in a hopper on top of the machine and fed in one at a time by a singulator.  You'll certainly never have to worry about a robot arm getting stuck or jammed – because there isn't one! In theory, this design is superior because there is simply less than can go wrong.
When it comes time to actually get work done, the Microboards MX-2 is ready to do battle. It has a 100 disc capacity and packs a four-color inkjet cartridge system with user-replaceable print heads, just like the Bravo 4102.
While it's not as fast as the Bravo 4102, the MX-2's print engine produces beautiful, full-color prints at an astonishingly low cost of 9 cents per disc. It is the class leader in terms of economy, which is great if you plan on producing large numbers of discs on a regular basis. The MX-2 is also available with dual Blu-ray burner drives and is PC and Mac compatible. It's a well-rounded machine that doesn't skimp on features or on options.
So which machine is the winner? The Epson DiscProducer is a fantastic machine, but it falls short in the Blu-ray and OS compatibility categories. The MX-2 is also brilliant, but its slightly higher price and slower print speed are no match for the Bravo 4102. I've got to say that based on print quality, speed, features, and price, the Primera Bravo 4102 Publisher is the best of the lot.