Primera Introduces New Bravo 4100 Series Disc Publishers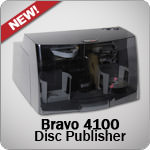 The new year is here, and with it comes a brand-new family of disc publishing equipment from Primera Technology. Allow me to introduce the new Bravo 4100 series machines! This new product line includes an autoprinter, CD/DVD publisher, and Blu-ray publisher for complete disc production. Let's take a look at each of these machines in depth to find out what makes them so special.
First up is the Bravo 4100 autoprinter. At first glance, it doesn't look like anything special. It has a charcoal gray exterior and a smoked plastic cover. Nothing about it hints that this machine is actually a hot rod in sheep's clothing. That's because the real magic is under the hood, where you'll find an all-new disc printing engine that's faster than any other disc printer on the market.
I'll go ahead and wait a second so you can read that last sentence one more time. That's right, the new Bravo 4100 is the fastest disc printer on the market today. When it comes to print speed, this machine is in a league of its own. Nothing else even comes close.
Just how fast is it, you ask? Well, this printer can crank out a full color-printed disc in about 6 seconds from start to finish. The print head flies over the disc just a few times and it's on to the next one before you know it! Even after watching it in action, I still can't believe it's that fast.
The secret behind this lightning-quick speed is a new print engine from Primera. It features a larger print head which covers more of the disc's print surface in less time. There's also a new 4-color ink cartridge system that uses cyan, magenta, yellow, and a "true black" to create the most accurate colors ever seen in a Primera printer.
Calling this "just another disc printer" would be like calling the Chevrolet Volt "just another car." Make no mistake, this machine is a game-changer.
So let's get down to business. The Primera Bravo 4100 autoprinter holds up to 100 printable discs at a time. It comes with industry-leading design software from SureThing and like other Bravo units, is compatible with Mac OS. It is an awesome machine any way you look at it.
Of course, Primera couldn't just stop at creating a blazing fast new disc printer. They also have two other models with built-in DVD burners: the 4101 and 4102. The names refer to the number of burner drives in each machine – one DVD/CD recorder in the 4101 and two burners in the 4102, respectively.
By combining their fancy new printer with up to 2 burners and a robotic loading arm, Primera has produced a highly capable disc publishing system for complete CD/DVD production. The Bravo 4100 series disc publishers run unattended so that you are free to do other tasks while the machine zips along. The time they save is tremendous!
You might be wondering if this incredible machine is available with a Blu-ray drive. In fact, you can get one with up to two of them! The Bravo 4101 / 4102 Blu-ray publishers do everything the CD and DVD versions do, and then some! Because they are equipped with the latest high-speed Blu-ray burners, the Blu-ray publishers can record single-layer and dual-layer Blu-ray discs in addition to regular CDs and DVDs.
If you're in the market for a new disc printer or publisher, I would strongly encourage you to check out the new Bravo 4100 machines from Primera. They are fast, new, and available now from CDROM2GO.com! For more information or to order yours now, please visit The Primera Store by CDROM2GO to learn more.