Microboards Releases PrintWrite 2 Software Update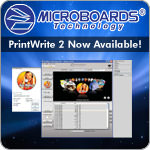 Do you own a Microboards disc printer or publisher? If you do, you may be interested to know that Microboards has just released an all-new version of their signature software suite, PrintWrite. Let's take a minute to explore what the update is, why you would want it, and how to get it.
PrintWrite is a software program that comes with all of Microboards' CD/DVD printers and publishers. It allows you to create, save, and print your own custom disc artwork and designs. If you have a publisher model (one with recording drives), the software also allows you to burn CD, DVD, and on some models, Blu-ray discs.
PrintWrite 2 is the latest version of the program which has just been released by the manufacturer. While the original program worked, it wasn't particularly known for its ease of use. That's all changed with the new single-screen interface. You can see everything you need to at a glance without changing between multiple windows or programs. The software was designed with the needs of Microboards CX-1, MX-1, MX-2, and G3 users in mind.
Besides the new look, PrintWrite 2 also sports additional pop-out panels that display information such as Job Status, Ink Levels, and Label Options. The program even displays recently-used label designs so they can be accessed quickly and easily.
Perhaps the biggest and most important new feature in PrintWrite 2 is its networking capabilities. This allows the your Microboards disc publisher or printer to be shared by multiple users over a network. Best of all, the network software supports an unlimited number of users, so there is no need to purchase any additional user licenses!
This is great for small to mid-size businesses, home offices, and other environments where multiple users need disc printing access. The software gives administrators full control over which remote clients can access the publisher, including allow and block capabilities. This ensures that only authorized users can print and burn discs.
So how do you get a copy of PrintWrite 2? Well, there are a couple of different ways to go about it. If you purchased your Microboards machine after October 1st, 2010, you can contact the company to get an upgrade for free. Just shoot an email to support@microboards.com or call them at (952) 556-1639 for details.
You can still get the newer version if you purchased your machine before October 1st, 2010, but there will be a $299 dollar fee to get the new release. This is a discounted price which is only available to current Microboards customers through March 31st, 2011. After that date, the price for the new software may go up.
Microboards will begin shipping the new software with publishers such as the CX-1, MX-1, MX-2, and G3 within the next few weeks. As of right now, the software is only compatible with PCs running Windows XP, Vista, and 7. An update for Macintosh products has not yet been announced, but we'll keep you posted as soon as news becomes available. In the meantime, check out the full selection of disc production equipment at the Microboards Store from CDROM2GO!