JVC SR-HD1250US Blu-ray Recorder Reviewed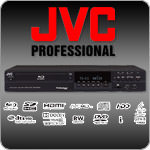 These days, it seems that just about every video camera records in some kind of high-definition format. The question is, what do you do with that content after you record it? Building a computer-based system for video editing can cost thousands of dollars, and it also carries a fairly steep learning curve when figuring out the software to record and edit your content. Thankfully, JVC has a better way.
It's called the JVC SR-HD1250US, and what it does is make your life easier. That's because it burns information from your camera directly on to a CD, DVD, or Blu-ray disc without the need for a computer. In essence, this is a completely stand-alone recording deck for both amateur and professional users.
The main advantage of using a machine like the SR-HD1250US is convenience. Plug it in, connect your camcorder or memory card, and hit record. The machine will transform your source material to a master CD, DVD, or Blu-ray disc thanks to its built-in Blu-ray duplication drive. It's perfect for places such as churches, recording studios, and other video environments where time constraints do not permit a lengthy editing process.
One thing that I really like about the recorder is that it has all of the most popular connections on the front panel. These include the DV camera input, USB 2.0 input, iLink support, and even a high-capacity SD card slot! They are very easy to get to and clearly marked. The back of the machine has standard RCA component inputs for capturing from an analog camera or VCR and even BNC inputs for connecting to broadcast-grade equipment – a nice touch not found on many lower-end recording decks.
Once you have your camera connected, you can choose to copy your video directly to a disc or save it on to the deck's internal hard disk drive. The 250GB drive is built-in and offers enough storage space to hold over 50 DVD projects or about 10 Blu-ray projects. Of course, this number will vary depending on the quality settings and the length of the videos you copy over.
The remote control actually offers more buttons than the unit itself, and it is required for some of the editing functions. This is both convenient and worrisome. I like that you can toggle subtitles, set in and out points, and get to the Setup menu from the remote. However, if you have a bad habit of losing remotes, you may find yourself unable to access some of the machine's features.
Overall, the JVC SR-HD1250US is very easy to set up and to use. There are plenty of features like One-Touch Dubbing for novices, in addition to more advanced editing features for professional users. When you combine this recorder with some quality blank Blu-ray discs, you will have everything you need to create high-definition videos quickly and easily.
This JVC Blu-ray recorder is available now from retailers such as CDROM2GO. Check it out today to find out more about how it can help streamline your video production process!