Under the Hood of the Epson DiscProducer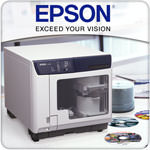 At first glance, you might not think much of the Epson DiscProducer. It doesn't have an input bin sticking out the top or a cool blue LED light inside. It looks more like a kitchen appliance than a high-tech disc publishing machine. So what it is that makes the DiscProducer so special? It's what's inside the machine that really counts.
Don't let the machine's unassuming appearance fool you. The Epson DiscProducer's beige exterior conceals the masterfully engineered components within, sort of like the back cover of a pocket watch. Let's take a look at the machine's three major components to find out how they work together as a successful disc publishing machine.
Robotics
One essential function of any automated disc printer or publisher is that it must be able to move discs around. Like many other machines, the DiscProducer uses a robotic transport arm to pick and place discs from one area to another. Unlike other manufacturers, Epson pulls this off with amazing results.
There are a lot of problems that engineers must overcome when designing robotic transport mechanisms. They have to account for discs of different shapes and weights, discs that stick together, and alignment issues when picking and dropping discs. Not only that, but the arm must be able to repeat its same motion with extreme precision hundreds of thousands of times without missing a beat!
Fortunately, Epson has a lot of experience when it comes to designing precision robotics. They have decades of experience in producing robotic arms for medical and automotive assembly industries, and Epson engineers have applied that same knowledge towards the DiscProducer. The arm design uses a minimum of moving parts to reduce friction points and is encased in a dustproof cover to improve reliability.
Additionally, the picking mechanism has a feature that Epson calls AcuGrip. It works by using a separate peel-off lever to free any stuck-together discs as they are picked up from the input bin. This helps eliminate stuck or jammed discs in the machine.
Printing
The next function a good CD/DVD publisher must be able to perform is printing discs. Many other machines in the disc printing industry license their print engines from companies such as HP or Lexmark. Not so with the DiscProducer. With over 30 years in the printing business, Epson uses their own print technology instead of outsourcing. You can bet that when it comes time to apply text and graphics to your CD/DVD discs, Epson delivers.
The print head of the DiscProducer can crank out graphics and text at up to 1440 dpi (dots per inch). This is excellent for doing full-disc prints with photographic quality. In Speed Mode, the PP-100 publisher can crank out about 60 discs per hour, or one every minute.
Another advantage of Epson's print engine is that it uses a 6-color cartridge system to create incredibly rich and realistic colors. Like their smaller desktop and CD printers, you only need to replace the colors you run out of instead of the whole set of cartridges! Epson reports that their DiscProducer cartridges typically last for an incredible 1,000 prints befor needing replacement. Wow!
Burning
Now that the discs are loaded and printed, they must also be burned. Fortunately, the Epson DiscProducer Publisher is equipped with a pair of high-speed burners for duplicating CD and DVD discs in short order. These drives are multi-format burners, which means they can record on just about every type of blank CD, DVD-R, and DVD+R media – including dual layer discs!
When you consider the precise robotics, quality printing, and speedy burning of the machine, it's no wonder the DiscProducer is a top performer! There's even a special offer going on right now on DiscProducers when you buy one from a factory-authorized reseller such as CDROM2GO.
Basically, if you buy a DiscProducer and a box of blank discs (which you probably need anyway), you will get a $250 Prepaid Visa Card for free. Sounds like a pretty sweet deal, right? Well head on over to the Epson Store by CDROM2GO to get yours today – but you have to hurry because this offer ends January 31st, 2011.