CD Labeling Templates Explained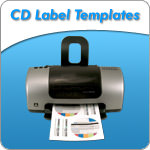 The task of designing your own custom CD labels can be pretty daunting if you haven't done it before. There are a lot of things to consider: what sort of labels to choose, how to apply them, and how to create and print your artwork. I hope that after reading this article, you will have a better understanding of the steps to creating your own custom CD labels.
The first thing you must decide is which type of disc labels to go with. There are a ton of choices for blank CD labels including full size or mini, glossy or matte, and inkjet or laser. The right one for you will be determined by your equipment.
For example, a full-size label provides excellent coverage for something like a homemade audio CD. Gloss finishes look best for photos, while matte finishes look best with text or line art. Finally, your need to select inkjet or laser labels depending on the type of printer you have. This is a very important step in creating proper disc labels!
Once you determine which labels are correct for your project, you will need a way to apply them to your discs. A CD label applicator can make the job much easier, especially if you have dozens or hundreds of discs that need labeling. These devices ensure that you will get a perfectly lined up label each time for a truly professional appearance.
Now it comes down to designing the artwork which will be printed on your discs. There are two ways to go about it, and they're both quite different from each other.
If you have any sort of graphic design experience, you may want to try our CD label templates. These are available as a free download from the product page where the labels were purchased. Inside the zip file are templates for Microsoft Word, Adobe Acrobat, Adobe Illustrator, and Adobe Photoshop. These files contain the guide lines and crop marks necessary to lay out your artwork for printing.
If you don't have a professional design program such as Photoshop or Illustrator, you may want to try our DiscStudio CD labeling software instead. This is a free CD label design program that comes with built-in templates for our most popular CD labels.
DiscStudio allows you to easily import photos and textures to use as backgrounds. Then, you can place text over the artwork in any font or size you like to create a truly custom designed disc. Not only is it easy to use, but DiscStudio even comes with a library of pre-made background images to choose from!
Customers who take the time to pick the right labels, applicator, and the right software or templates will find that creating high-quality, professional-looking disc labels is not as difficult as it may seem.