Can You Upgrade a Blu-ray Player to be 3D-compatible?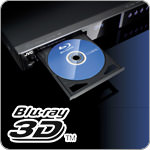 We've written extensively about Blu-ray technologies during the past several weeks. One of the biggest advances in home entertainment since Blu-ray itself is this year's introduction of 3D televisions, 3D Blu-ray players, and 3D movies for home users. As we have mentioned previously, this technology is going to expand greatly in the future. But what about everyone who already owns a Blu-ray player? The good news is that many of them may be able to upgrade their existing hardware to be 3D compatible.
How is this possible? Every Blu-ray duplicator, drive, player, and video game console contains a specific set of instructions called firmware which is used in decoding the disc for playback. In some cases, the device's internal software (the firmware) can be updated by the user. Not all devices can be updated, however. It depends on the manufacturer and on the device itself.

Major hardware manufacturers such as Sony, Samsung, and Panasonic have announced that they will enable Blu-ray 3D support for specific models of their existing players. Users will be able to update the firmware of their devices through a variety of different methods. These may include connecting a set top player to a home network via Ethernet or Wi-Fi connection, connecting a USB flash drive containing the update, or inserting a disc with the appropriate files.
Typically, users will have to go to a special menu option in order to load the firmware update. This procedure will be explained in the owner's manual if the Blu-ray device supports firmware upgrades. Once the new files are loaded, the machine will need to be powered off and back on again for the update to take effect. Manufacturers that are offering firmware updates do so free of charge.
As one of the founding members of the Blu-ray disc format, Sony has already introduced compatibility for 3D games on its PlayStation 3 game console earlier this year. Another update (which is expected out soon) will add full playback capabilities for 3D movies such as Monsters vs Aliens and Cloudy With a Chance of Meatballs.
However, it's not enough to just update the firmware of your Blu-ray player. In order to truly experience 3D movies at home, you will also need a 3D-compatible television as well as 3D glasses for each viewer. Bringing your player up to date is just one piece of the puzzle, but it is an important one nevertheless.
With that said, it is possible to upgrade your Blu-ray player to be compatible with 3D Blu-ray movies in most cases. To be sure, contact the manufacturer either by telephone or by visiting their website to see if an update is available. In this way, you can get more functionality out of your machine without buying new hardware!
You can keep up with the latest news regarding Blu-ray discs and other optical media technologies by subscribing to the CDROM2GO blog. Just add our RSS feed to your news reader to stay informed each time we post a new article. You can even post your comments about each article using the comment box below.