Tips for Designing CD/DVD Cover Artwork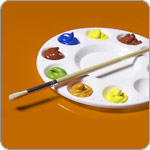 Many people find that the most difficult part of creating a custom CD/DVD disc is the design process. This is very important because the artwork you choose will give customers a strong first impression of your project. You need to make sure the artwork is as close to perfect as possible. Here are some useful tips to help you in the design process:
1. Use Gradients
When choosing a background color, be aware that some CD printers may have trouble producing solid colors. We recommend using a gradient (a fade from one color to another) whenever possible. This is good practice for creating printable CD/DVD labels as well as direct-on-disc artwork.
2. Choose High-Contrast Colors
The colors you choose for your text and background can dramatically alter the appearance of your disc. For maximum visibility, we recommend choosing dark text over a light-colored background, or vice versa. Try using an online color wheel to generate a pattern that works for your needs.
3. Use Vector Text
How do you ensure that the text on your CD or DVD disc stays sharp and crisp at any size? Create your text as a vector in a design program such as Adobe Illustrator. When saving your project for printing, make sure to convert your text to outlines by going to Type > Create Outlines. This will ensure smooth, easy readability at different sizes.
4. Include a High-Resolution Logo
Many companies and organizations choose to include their logo as part of their disc artwork. Please do not import the logo from the company's website for your disc artwork. While the logo may appear fine on a computer screen, it will appear blocky and distorted when printed on the disc surface. Make sure to contact your company's design department for a high-resolution logo.
5. Number Multiple Disc Sets
This tip may seem obvious, but you would be surprised at how often this one gets overlooked. When designing multiple disc sets with similar artwork, make sure to number the discs. Include a line of text such as "Disc 1″ "Part One" or "Volume I" on the discs. This will help users avoid confusion for multi-disc projects.
6. Include Your Contact Information
After viewing your music CD, software disc, or business presentation, clients will need a way to contact you. Make it easy for them by including your contact information on the disc itself. Be sure to provide a name, website address, and a telephone number or email address if you have one.
7. Check Your Text Alignment
When designing DVD case and CD jewel case inserts, it is important to consider how the text will appear when printed. Some items must be rotated 90 degrees in order to appear in the proper left-to-right and top-to-bottom orientation. Print a sample or proof copy before printing the whole job to confirm correct text layout.
With these tips in mind, you should be able to design creative and professional looking CD/DVD artwork that will impress your audience. Good luck and thanks for reading!