Sony Optiarc Releases 12X Blu-ray Burner with 3D Playback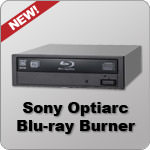 On Thursday, Sony Optiarc released details about two new half-height Blu-ray burners which will go on sale later this month. The burners, known as BD-5300S and BWU-500S, are the latest and greatest drives in Sony's lineup. The burners are essentially the same, with different part numbers for retail versions and OEM versions.
What sets these drives apart from the competition is their astonishing 12X write speed for BD-R discs. This means that users can record a full 25GB Blu-ray disc in as little as 10 minutes. At a time when most other manufacturers are touting 4X and 6X drives, Sony effectively shuts them down in terms of performance.
Users who record on dual-layer Blu-ray discs are not left behind either. Both drives feature an 8X max record speed for dual-layer Blu-ray discs, which is excellent for recording those extended-length projects on 50GB blank discs. In this way, up to 4 hours of High-Definition video can be recorded to a single disc.
From a technical standpoint, these burners are very impressive. They also record to blank DVD discs at up to 16X, and CD-R media at up to 48X. You can throw just about any type of recordable media at these drives and they will find a way to record it.
Another cool feature is the drive's generous 8MB memory buffer – four times larger than a standard DVD burner. Memory buffer is used for temporarily storing (or caching) information before it is written by the laser. A larger memory buffer helps reduce the probability of errors when recording CD and DVD discs. It is one of the drive's features that most users will never know about, and yet it greatly affects the overall quality of the drive.
We've established that these Sony burners are impressive at recording blank discs, but what about playback? Once again, there's an ace up Sony's sleeve. The BD-5300S and BWU-500S support playback of Blu-ray 3D discs in addition to the usual BD-ROM and DVD-ROM disc formats.
It's nice to know that Sony Optiarc had the forward-thinking sense to make these drives compatible with this up-and-coming format. They understand that the last thing anyone wants is to purchase a drive that is obsolete as soon as the box is opened. If the Blu-ray 3D format takes off (as many manufacturers are hoping it will), early adopters of these drives will not be left in the dark.
So what does a super magnificent all-in-one drive like this cost? Unfortunately, Sony has not yet announced pricing for their dynamic new duo of drives. We will have to wait and see when the drive arrives in stores and online later this month. Whatever the price, it's a heck of a lot of drive for your money.