How to Author a DVD Video Disc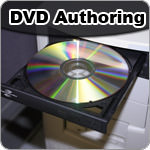 Producing your own DVD video project can be a lot of work. There are lots of steps which must be completed in order to make a finished product. Most people are familiar with the recording and editing steps, but they are not sure what to do beyond that. At this point, it's time to author your DVD.
Authoring is a process in which the final edit of a video project is exported from the timeline and then burned to a blank DVD disc, known as a "master disc." This master disc will be used to produce copies by means of duplication or replication.
The authoring process begins when the editing process wraps up. The movie should be exported at the highest quality setting for best results. Next, the video can be imported into a DVD authoring program such as Adobe Encore.
With Encore, you can turn your finished video file into a DVD. One thing you can use the program for is creating chapter points. This allows users to skip to a certain section of the movie quickly and easily. The software will allow you to create up to 99 chapters at any point you choose throughout the video. You can also set it to auto-generate chapters at fixed intervals, such as 2 or 5 minutes.
Another great feature of Encore is that it allows for the creation of menus. A menu allows the user to choose playback options such as languages and subtitles, as well as access special features which may be on the disc. These often include trailers, cut scenes, and bonus material such as bloopers and outtakes.
When all of these settings have been finalized, it's time to burn the master. Encore and other authoring programs have the ability to burn the master DVD disc directly, or save the output to an ISO disc image for use with programs such as Nero. Both methods work equally well, but I would only recommend using the ISO method if you need to save the project to your computer for future use. This method takes extra time and requires more hard drive space than simply burning the project straight to a disc.
When recording the master disc, it is very important to use a good quality disc. Brands such as Taiyo Yuden, Falcon, Verbatim, and US Digital Media are the best to use for creating originals. These discs feature high-quality dyes designed for both quality and longevity.
Another important factor in the authoring process is the record speed. When creating a master disc, I recommend burning at a lower speed to reduce the possibility of errors. A speed of 4X or 8X should be fine for most users. This is not an absolute rule, but it is a good practice to get into that may prevent future frustrations and headaches.
I hope this article has given you an idea of the steps involved to author a DVD disc. This is just part of the larger duplication/replication process, but it is an important step to the success of any project. If this sounds like it is above your skill level, you can always contact the experts at CDROM2GO for information on their DVD authoring services. With packages as low as $79 dollars, there's no reason not to give them a call (toll-free, as always) at 877-992-3766.