Epson Releases Mobile Printing App for iPhone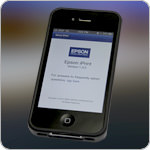 There's a lot more to the printing industry than putting ink on paper. Just ask Epson, makers of the Artisan 710 printer and multi-function device. You have to stay current with the needs of your users as they transition away from traditional desktop and laptop computers to mobile devices. Fortunately, Epson is ahead of the curve with their newly updated applications for mobile printing.
For Apple users, Epson's iPrint app is a pretty sweet deal. The newest version is available as a free download in the iTunes store. With it, you can print photos from your iPhone, iPad, or iPod Touch photo albums. Right now, the wireless printing feature is supported by 18 different printers including the Epson Artisan, Stylus NX, and WorkForce models.
The app does have a couple of drawbacks though. Currently, it can only print photos and not documents or PDF files. Another caveat is that because the printers themselves are Wi-Fi only, the iPhone and iPad devices must be in range and connected to the same Wi-Fi network as the printer. Printing over 3G networks is not yet possible. Still, Epson's iPrint app is a big step towards a more connected mobile future.
But what if you don't have a mobile device that runs Apple's iOS? Well, some Epson inkjet printers are also supported by a variety of third-party applications available for Blackberry devices. A program called Mobile Print from PriApps allows BlackBerry users to print everything from documents and emails to PDFs and photos to virtually any Wi-Fi enabled printer.
Over a dozen models of BlackBerry smartphones are supported, provided the OS version is 4.6.0 or higher. At $12.99 in the BlackBerry App World storefront, this is a fairly pricey selection. However, the functionality and features make the Epson-supported Mobile Print an essential tool for reducing dependence on your PC.
Another Epson-endorsed app for BlackBerry users is Remote Print by Chocolate Chunk Apps. This application supports Wi-Fi printing of any document type including photos, emails, and attachments. At $4.99, it's a bargain compared to Mobile Print while offering nearly all of the same functionality. Remote Print is compatible with the full range of Epson Wi-Fi printers listed above.
Whether you are an iPhone or a BlackBerry user, Epson has a range of printers and multi-function units with support for mobile devices. One thing I would like to see supported in the future would be disc printing, as the Artisan printer contains a built-in inkjet CD printer tray. We'll certainly be keeping an eye on Epson's development team for future application updates.