CD Labeling Software Reviewed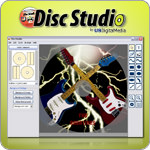 One of the neat things about printable CD and DVD discs is that you can use a software program to design your own artwork. There are dozens of programs available to do this, but which one is the best? Today we are going to look at several popular label design programs to see which one stands out.
SureThing CD/DVD Label Designer
Publisher: MicroVision Development
Version: 5.2
Platform: Windows 2000, XP, Vista, and 7
Price: $24.95
Trial Version: Yes (15-day)
One of the biggest names in the CD labeling industry is SureThing. Their software is available as a stand-alone product, but it also comes bundled with high-end disc publishers such as Primera Bravo CD/DVD duplicators and other machines. Included are templates for full size and mini discs, CD jewel cases and DVD cases, VHS tapes, and much more. SureThing even supports LightScribe disc labeling! This fully-featured software can create just about any label you need. It's also my favorite pick of all the different label design programs.
MediaFACE Labeling Software
Publisher: Neato
Version: 5.0
Platform: Windows XP, Vista, and 7
Price: $24.95
Trial Version: Yes (10-day)
MediaFACE is a software program made by Neato, a leader in the printable label and insert business. It allows you to create CD and DVD disc designs that you can save or print from home. It works with a wide variety of Neato and Neato-compatible CD labels. A helpful wizard can help you design discs in as little as 30 seconds. The program comes with a library of background images and features iTunes integration for exporting music playlists as part of the disc artwork. It even works with Epson CD printers! This is a great alternative to SureThing.
CD/DVD Label Maker
Publisher: Acoustica
Version: 3.33
Platform: Windows 2000, XP, Vista, and 7
Price: $21.95 digital, $32.95 boxed
Trial Version: Yes
Acoustica's CD/DVD Label Maker includes a decent-sized library of templates, but unlike MediaFACE it does not have a wizard to walk you through choosing one. It offers many of the same features as MediaFACE including backgrounds, Epson printer support, and LightScribe support. Only the more expensive boxed retail version includes the free backgrounds, whereas the cheaper download-only version does not. The program itself works fine, but it's not the best value here.
Nero Multimedia Suite
Publisher: Nero AG
Version: 10.0
Platform: Windows XP, Vista, and 7
Price: $49.95
Trial Version: Yes (15-day)
As the name implies, Nero Multimedia Suite is more than just a CD/DVD labeling program. It is a full suite of programs for video editing, CD and DVD burning, and computer backup all in one. If you need an all-in-one suite that does everything, the $50 dollar price tag is a real bargain. However, you do have to buy the full suite just to get Nero Cover Designer. This is a drawback if you just need a simple disc labeling program. This program costs a lot, but it also does a lot. Fortunately, Nero gives you 15 days to "try it before you buy it."
DiscStudio Label Designer
Publisher: US Digital Media
Version: 2.0
Platform: Windows XP, Vista
Price: FREE
Trial Version: Not Needed
When you just need to create and print simple disc artwork, consider DiscStudio by US Digital Media. This program is a fully-functional version that is free of charge and does not contain any advertising or limitations. DiscStudio can import photos, backgrounds, and add text to your project. It supports adhesive CD/DVD labels as well as most inkjet disc printers. Unlike the other programs, DiscStudio does not support creating LightScribe artwork. The program's feature list is noticeably shorter than the other "premium" design programs, but at this price you really can't complain.
These are just a few of the many types of CD labeling software available out there. What software do you use, and what do you recommend to others? You can use the comment box directly below this article to share your thoughts.