3D Entertainment Expands Beyond Blu-ray Discs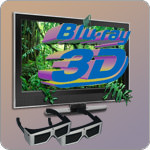 If there's one thing you can count on in the entertainment industry, it is change. Nothing is ever constant, and that is especially true of hardware manufacturers. They are always looking for the next big thing in order to gain an edge over the competition. Currently, the hot trend in the industry is 3D technology.
We have written about 3D Blu-ray discs and movies becoming the new standard for home entertainment. Now, we are seeing 3D move beyond Blu-ray discs into other formats. Hardware manufacturers are jumping on the 3D bandwagon in droves.
Later this month, JVC's new line of THX certified 3D projectors will go on sale. The Reference series features four models designed with home theater enthusiasts in mind. Brighter lamps and the latest HDMI revision will ensure the best possible performance for 2D movies. Where these projectors really shine is in their 3D capabilities. A 3D signal emitter keeps the projections synchronized to the proper rate for the 3D glasses included with each projector.
These projectors will be great for enthusiasts looking to bring 3D Blu-ray movies home, but what if you don't have the space to set up a projection system? In that case, electronics giant Vizio has you covered. The company has recently released a new line of 3D-capable HDTVs in 55-inch, 47-inch, and 42-inch sizes.
To go along with these high-end new TVs, Vizio has unveiled a new line of 3D-capable Blu-ray players at the same time. These full featured players include support for Internet applications such as Pandora radio, NetFlix, and VUDU over the player's built-in wireless connection. Both of Vizio's Blu-ray players start at under $200 dollars each.
Whether you choose a 3D projector or a high-definition 3D television, you still need something to watch. Fortunately, content producers are hard at work rolling out the latest in 3D entertainment. Users of Verizon's Fiber Optic TV and Cox Cable HD subscribers were recently treated to a 3D broadcast of a college football game earlier this month on November 13th.
Not to be outdone by traditional cable companies, DirecTV has announced the introduction of its new 3D channel, n3D by Panasonic. The channel is filled with three-dimensional broadcasts of Major League Baseball games, the 2010 US Open tennis matches and ESPN's Summer X Games 16. The latest show to be added to n3D is Guy's Big Bite starring celebrity chef Guy Fieri.
The world of three-dimensional entertainment is expanding rapidly. With big names such as JVC, Vizio, Verizon, Cox, and DirecTV now on board, it is only a matter of time before other manufacturers start joining in. When that happens, we can expect to see even more product and service choices available at more competitive prices. One thing is for sure: 3D content will not be limited to just Blu-ray discs.