How Are 3D Blu-ray Movies Authored?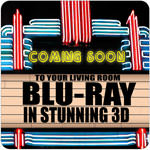 The year 2010 has seen an explosion of 3D multimedia products hitting the market. Everywhere you look, there are 3D televisions, 3D Blu-ray players, and even the special glasses. 3D is the new buzzword in Hollywood. Even the new Tron movie opening this December will be in 3D!
Some of you might already have your brand new 3D TV with the newest 3D-capable Blu-ray player connected to your 5.1 surround sound system. You're sitting in your favorite spot on the couch with your 3D glasses on, ready to enjoy some serious 3D content. There is just one problem with this scenario: the only 3D movie you have is Monsters vs Aliens. While it is a decent movie, your kids have already watched it 40 times and you're actually sick of hearing Seth Rogen's voice.

Outside of animation and a couple of action and horror movies, the selection of 3D Blu-ray movies is pretty limited at this point. With films like Avatar continually postponing their release dates, it might be this way for a while. There is a nice market for anything 3D, standard and high definition. If you took economics, you may remember that when demand is high and supply is low, you have a perfect money-making opportunity.
So how can anyone outside of Hollywood create 3D content for Blu-ray discs? Unfortunately, the authoring situation has reverted to what most of us saw two and a half years ago with Blu-ray and our crisp 2D HD content: there are only three authoring options and they are not cheap.
The first program to enter the Blu-ray 3D authoring market is Blu-Print 6 from Sony. This professional editing suite costs around $50,000 dollars. On June 29th, Netblender (now Sony DoStudio) released their EX 3D module and MVC (3D) encoder. This is a cheaper option since the DoStudio 3D Bundle is sold for $17,985.
The last option is from the authoring standard of the industry, Sonic Scenarist. Sonic has recently released 3D-capable versions of Scenarist and Cinevision in September. I was unable to find a price online, but the last time I talked to a representative it was $35,000 for each program. That means it will run you a total of $70,000 to create a Blu-ray 3D master with their software. Wow!
The process for replicating Blu-ray discs with 3D content is nearly identical to the process for regular Blu-ray discs. The main technical difference with Blu-ray 3D is that it uses Multiview Video Coding (MVC), which is an amendment to the ITU-T H.264 Advanced Video Coding (AVC) standard.
MVC uses a Stereoscope Interweave file (ssif) to mix two BDAV MPEG-2 transport streams to create the 3D effect. The MVC stream is backward compatible with older Blu-ray players meaning 2D devices can decode the strereoscopic MVC video stream, ignoring the information for the second view.
Producing the MVC video stream and the ssif file at this point seems to be the main difficulty for expanding 3D capabilities to other Blu-ray authoring programs, such as Sonic BD Powerstation and sofatronic's Kaleidscope. I think a major question for mid-size authoring facilities is: Will 3D capabilities be incorporated into cheaper Blu-ray authoring programs? Will the next release of Adobe's software incorporate 3D capabilities or, for that matter, when will the next release of Encore be able to produce replication-ready masters?
The only Blu-ray authoring workflow that will produce a replication master on an Apple computer without using a Windows emulator is to use Encore to output Blu-ray content to a hard drive and then use BluStreak Premaster to create the BDCMF master. A question for Mac users is whether or not BluStreak Premaster can handle the ssif file?
Authoring Blu-ray 3D is still in its infancy. While expensive programs dominate the market, the Blu-ray 3D content market is effectively closed to a number of content producers for now. For many content producers, Blu-ray 3D will hopefully be opened to the little guys before the studios conquer the market share. Consumers who are looking for more 3D Blu-ray content will most likely have to wait for the major movie studios to start releasing more titles like Avatar and Coraline.