TDK Researchers Develop 1TB Storage Disc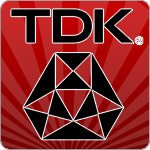 In the United States, technology companies often roll out their latest and greatest innovations at the annual Consumer Electronics Show in January. In Japan, new cutting-edge products and ideas are introduced at the Combined Exhibition of Advanced Technologies, also known as CEATEC.
This year's CEATEC show featured a surprising announcement from TDK, a manufacturer of blank recordable CD/DVD discs. Their researchers have announced an experimental new type of optical disc that holds a staggering 1 terabyte of storage! Yes, you read that correctly: 1,024 gigabytes of storage on a single disc.
This is significantly larger than a standard DVD which holds 4.7GB or 8.5 GB in dual-layer form. A regular Blu-ray disc holds 25GB of space or 50GB if the disc is dual-layer compatible. Even the 100GB Blu-ray XL discs I blogged about earlier this year pale in comparison to these new storage giants!
So what's the secret behind this spacious disc? As it turns out, researchers looked at existing methods of data storage and took them to new extremes. For example, adding a second data layer to a DVD or Blu-ray disc is one way to add more capacity to a disc.
Using this approach, TDK was able to engineer a disc with 16 layers of data storage. Each one of the layers holds 32GB of data, which is larger than a blank Blu-ray disc. Then, they made the disc double-sided for a total of thirty-two 32GB layers. This results in a total storage capacity of 1,024GB or 1TB.
If these one-terabyte discs could be produced in large numbers, they would bring tremendous cost savings to the technology industry. Discs are inherently cheaper to produce than hard drives and solid state drives because they do not contain any electronic components. Additionally, these other types of storage devices have a higher cost-per-gigabyte when compared with optical discs.
The most obvious use for these fantastically large discs would be for backup purposes. Companies, businesses, and home users would be able to archive and store very large volumes of data for future use. With single hard drives now commonly available in one, two, and three-terabyte capacities, backing this information up on traditional CD and DVD discs becomes less practical.
For example, a single TDK 1-terabyte disc has the same storage capacity as approximately 218 regular regular DVD-R discs. Even more impressive is the fact that a single 1-terabyte disc holds the equivalent of 1,500 CD-Rs worth of information! Wow! These figures assume that both the CD and DVD discs were recorded using 100% of the available free space.
For years now, computer users and magazine columnists have been proclaiming that optical discs are dead, having been displaced by solid-state and flash memory technologies. And yet, how can discs be declared dead if new technologies are still being researched and developed?
The truth is, discs will be around for a long while yet. They're not ready to retire anytime soon, especially with innovators such as TDK hard at work on exciting new formats. We'll keep you posted as further details become available.