JVC Introduces New PrintPlus CD/DVD Media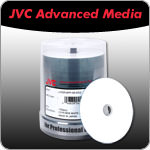 Earlier this year, Taiyo Yuden underwent a name change to become JVC Advanced Media in the United States. They have been slowly transitioning the old Taiyo Yuden part numbers to the new JVC part numbers, which we wrote about back in March. With the changeover nearly complete, JVC is back in the game with a newly-released product called PrintPlus media.
PrintPlus DVD discs have several big differences from regular inkjet printable media. The most striking difference is the texture of the print surface. Whereas most discs have the flat look and feel of copy paper, these discs have an unusual textured finish that's very similar to that of an orange peel. In the right light, it almost looks waxy and organic.

While it looks strange, the print surface is a big part of what makes PrintPlus discs so special. The dimpled surface greatly reduces the amount of time required for the ink to dry after printing! This is a big advantage for those mission-critical jobs where timing is everything. The faster the prints dry, the sooner the discs can be handled, inserted, and packaged.
This can be a big time-saver for duplication ministries, concerts, presentations and seminars, and other events where copies need to be ready as fast as possible.
Another advantage of PrintPlus CD media is the semi-gloss finish. Prints on these discs are classified as Photo Grade because they are just slightly more reflective than a standard matte finish. These discs are not a substitute for JVC's WaterShield discs, however they are said to be 40 times more water-resistant than a regular printable disc according to the manufacturer.
This means that PrintPlus discs are less likely to be damaged by moisture, smudging, and improper handling. WaterShield discs still provide the best finish, but these discs are a noticable cut above an ordinary disc.
In the past, users had to make a choice between top quality and good value. Think of PrintPlus as a compromise in the middle. It's the perfect choice for those who want better-than-average print quality without spending a fortune on blank recordable media. Best of all, PrintPlus is available in both CD and DVD versions.
For more information on these and other discs, please visit the JVC Advanced Media store at CDROM2GO.