Common CD/DVD Duplication Mistakes to Avoid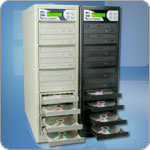 Doing your own CD duplication and DVD duplication can be a great way to save time and money. It gives you complete control of the look and feel of your project, plus the convenience of on-demand production. But if you're not careful, this simple task can quickly turn into a nightmare. That's why I am offering this list of common mistakes to avoid when doing your own disc duplication.
1. Underestimating Your Needs
When purchasing a duplicator tower for your church, business, or personal use, many people tend to underestimate their needs. The last thing you want to do is end up copying 1,000 discs on a 3-drive CD/DVD duplicator when a 10 or 11-drive tower would make the job much faster and easier. It's important to be realistic about how much you plan to use the equipment. Even a simple copy job can be very difficult with the wrong tools. My advice is to plan ahead for growth.
2. Getting Upset
There's no reason to get mad when a machine isn't working the way you expected it to. Chances are that you are not the first person to ever run into the problem. Check the user manual or see if the manufacturer has an online knowledge-base on their website. CDROM2GO even posts instructional duplication videos on YouTube to help assist our customers with the operation of their CD/DVD towers. Remember to stay calm and focus on finding the answer.
3. Waiting Until the Last Minute
Don't wait until the last minute to start your job. Take the time to familiarize yourself with the software and equipment before you take on a big job or a tight deadline. Procrastination will always come back to bite you later.
4. Running Out of Supplies
Running out of supplies is just about the worst thing that can happen during an important production run. It's always a good idea to stay stocked up on supplies such as blank CD/DVD discs, thermal ribbons, and printer ink cartridges for your inkjet disc printer or publisher. These specialty items may not be available late at night, on weekends, or while traveling (such as on a business trip). Be prepared!
5. Expecting Perfection
More often than not, it seems like things in life don't always work out the way we had planned. That's why it's good to prepare for problems in advance. Don't expect that everything will work perfectly the first time. Discs may get dropped or fail to burn, prints may smudge or smear, and you may tear a printed label or insert. Better to just replace it and keep on going than to get hung up over a minor setback.
6. Not Testing Your Discs
It's always a good idea to check, check, and re-check your discs. Seriously, I mean it! It takes just a few seconds to test a disc and make sure it works. Better that you should find an error instead of your customer or client! Large runs of discs should be random sampled to ensure correct content and smooth playback.
As you can see, there is more to doing your own DVD/CD duplication than just copying discs. You also need the right tools, the right attitude, ample time and supplies, and good quality control procedures. With these tips in mind, your odds for success will greatly improve!