Blu-ray Benefits: 7 Reasons For Making The Switch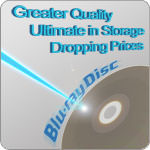 For those of you who haven't made the high def switch, Blu-ray may seem a little intimidating now that you've adjusted your digital life to the ease of the DVD format. Before you get too settled, you need to be pushed out of that comfort zone, and Blu-ray undoubtedly makes it all worth it.
Blu-ray, how do I love thee? Let me count the ways:
1. Blu-ray's video quality is unmatched. Two words—color correction! The odd hues that typically filter some DVDs render video too orange or too blue, but Blu-ray makes them just right. People's facial expressions as well as backgrounds are refined with more detail. The colors are so lifelike, you feel as if you're transplanted to the setting of the video itself. However, we could go on and on. Seeing is believing, so check out this Blu-ray versus DVD video comparison.
2. Blu-ray gives your data more room to grow. With more than five times the amount of storage of a DVD, Blu-ray is especially convenient for archival purposes. By putting more data on each disc, you also save extra physical space, creating less clutter. You have more storage thanks to the high definition disc's manufacturing process, where the microscopic pits and lands that hold the data in binary form is spaced together at closer range than other media formats, therefore allowing more to be written.
3. HD home entertainment is the way to go. Gone are the days of bulky big box TVs ruling your living room. High definition is nearly standard in the U.S.; according to Home Media Magazine, last year revealed more than one third to almost half of all American households have a high def television. This rate is only growing. Blu-ray optimizes the picture quality that HDTV can provide.
4. More data for your dollar. Blu-ray is increasingly more affordable. For your special media projects, blank BD-R discs are as low as $1.55 per disc and printable Blu-rays are as low as $1.79. While DVDs are closer to 20 cents per disc, the amount of storage you get per disc calculates to a higher rate of storage for your money with Blu-ray.
5. The price of a player is now reasonable. No longer is a BD player an expensive niche product. You can find online deals for devices as low as $70. Even name brand players with Internet capabilities are as low as $130.
6. The price of Blu-ray equipment, like those for duplicators, is falling. Blu-ray duplicator towers can be as low as $700. Considering it will produce hundreds to thousands of copies over its product lifetime, it's a wise investment for reproducing high definition content from the comfort of your own home or office.
7. Blu-ray duplication services are easier to use than ever. At CDROM2GO, for quantities up to 10,000 discs, you can get your Blu-rays copied and printed in less than 2 days. Prices are as low as $5.79 per disc for comprehensive services. Whether it's a single or double layer Blu-ray, your order will include choices of custom packaging, inserts and disc artwork to give you the best presentation possible.
Moreover, Blu-ray's growing popularity forecasts better prices and a wider selection of products and services. Considering all these reasons, why not treat yourself to a Blu-ray upgrade?
Are you a fan of Blu-ray? Give us your own love letter to the high def format in our comment box below!